There's no doubt that there's a tremendous T3 hairdryer behind the success of almost all salon-level hairstyles.
If you are looking to get one and are confused by all the choices available out there, I've got you covered.
In this guide, I'm going to review in detail my Top 5 T3 hair dryers. 
Thus, without delay, let's get straight into it.
T3 Hair Dryers Top Picks at a Glance
This post contains affiliate links, and I will be compensated if you make a purchase after clicking on my links.
Don't have time? Here is a quick comparison of our favorites!
Top 5 T3 Hair Dryers (Review)
This professional hairdryer features the infamous digital ion air tech. Not only does it quickly dry your hair, but it also leaves your strands frizz-free. 
The T3 Cura Luxe Hair Dryer has versatility packed in abundance.
Styling becomes extremely customizable with this dryer due to its multiple speed and heat settings. It flaunts an elegant design that not only looks good but it's also user-friendly.
Plus, there's a feature that I love! Being absent-minded comes quite naturally to me. So if you're like me, you're also going to love its automatic pause features. 
Besides that, the dryer makes sure that you cause minimal heat damage to your healthy hair. That's all due to its digitally controlled heat settings being oh-so-convenient.
Watch this review by YouTuber Styles by Summer.
Measurements
The T3 Cura Luxe Hair Dryer weighs 1.02 pounds. Its dimensions are 19.55 cm x 7.62 cm x 24.76 cm. (2)
Benefits & Drawbacks of T3 Cura Luxe Hair Dryer
| Benefits | Drawbacks |
| --- | --- |
| The T3 Cura Luxe Hair Dryer features the lock-in Cool Shot button. | No diffuser. |
| It also has an automatic pause sensor. | A bit expensive. |
| Extremely ideal for volume boost. | |
| A total of 5 modes for heat settings. | |
How It Compares To Others
In short and simple terms, the T3 Cura Luxe Hair Dryer offers you all that you've ever wanted from an efficient T3 dryer.
If you wish to add volume to any hair type, the dryer is among your best options. Its luxurious results last long, keeping your hair smooth, bouncy, and shiny. 
Its premium features, such as salon-worthy looks, various heat settings, quick drying time, and advanced ionic tech, are what make this dryer an absolute must-buy.
And add in sleek and excellent aesthetics; here! Take my money.
It's just as Amazon reviewer, Abby F, was impressed by the salon outcomes from the dryer.
Expert Tips
Make sure to section your hair before blow-drying it. Use a concentrator nozzle to speed up the drying process. Also, use a round brush for a complete, voluminous blowout.
Celebrity hairstylist David Lopez held that the product leaves a whole finish with volume. [1]
Watch this YouTube review of the hairdryer.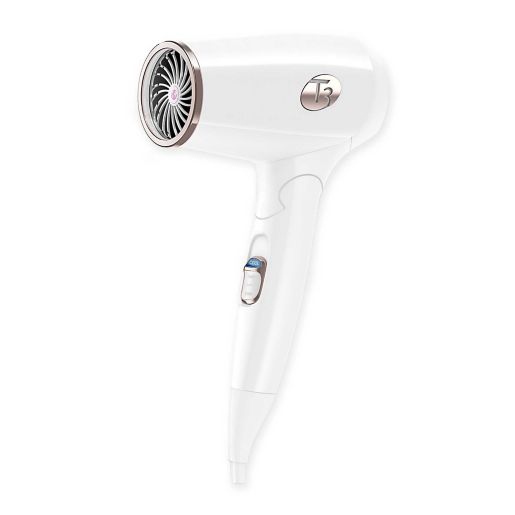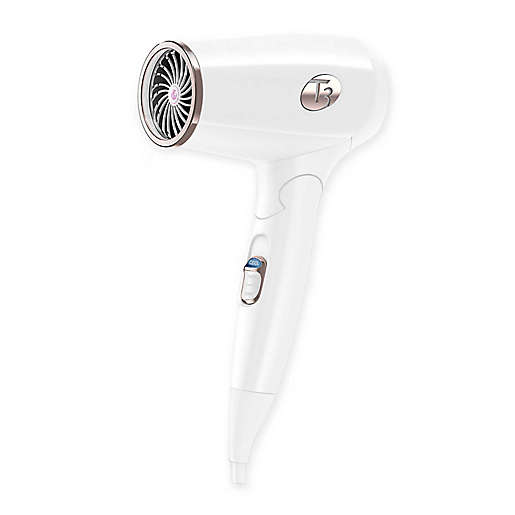 Do you travel often and always find it hard to make space for your dryers? Then this T3 Featherweight Hair Dryer might be the one calling out to you.
Not only is the hairdryer compact and ultra-light, but it also has a folding ergonomic handle. How convenient is that!
It features the famous Cool Shot button, two modes for heat, and low-speed settings, making it perfect for coarse hair and textured hair.
The dual voltage tool ensures that your locks look shiny, smooth, and frizz-free through its SoftAir system and ionic airflow.
One reviewer from Amazon, Lea,  said it was an ideal lightweight dryer. 
Measurements
This spectacular hair dryer weighs 1.96 pounds and measures 18.03 cm x 7.87 cm x 23.11 cm. 
Benefits & Drawbacks of T3 Featherweight Hair Dryer
| Benefits | Drawbacks |
| --- | --- |
| Featherweight Hair Dryer has a foldable handle that is undoubtedly convenient. | Featherweight Hair Dryer is difficult to grip.  |
| The surface of the dryer is resistant to scratches. | It takes time to dry hair. |
| It emits an airflow that's rich in ions. | Expensive |
| A dual-voltage dryer. | |
| The design is compact. | |
If you want to know more, check out this review. 
Straight out of the box, its ergonomic design and quality build were features that were extremely hard for me to miss.
Drying time is abundantly reduced due to the usage of an advanced ion generator. Thus, the dryer makes sure that your hair maintains its natural moisture. 
Its versatile features offer you more control through its three modes for heat settings and two levels of speed. 
T3 Micro Featherweight Luxe Hair Dryer makes use of the SoftAir system.
Aside from that, the dryer has a T3 ceramic and tourmaline grill. These features function in tandem to cancel out static and enhance the addition of negative ions to your hair.
So what you get is a dryer that efficiently dries your hair pretty quickly.
Measurements
The T3 hair dryer weighs 0.8 pounds and measures 21.6 cm x 7.9 cm x 22.2 cm. 
Benefits & Drawbacks of T3 Micro Featherweight Luxe Hair Dryer
| Benefits | Drawbacks |
| --- | --- |
| Micro Featherweight Luxe Hair Dryer has a durable motor. | Micro Featherweight Luxe Hair Dryer has sensitive buttons. |
| The filter is easy to clean. | |
| Noise-free. | |
You can check out this comparison review video.
If you want salon-worthy blowouts right at your home, this high-performance T3 Cura Hair Dryer is worth checking out.
The dryer features an ion generator that's built within the tool. It helps add that extra volume of hair that you might be looking for. 
It smoothens your damaged hair perfectly. The heat controls are digital, making them more user-friendly.
If you're someone who digs cold drying, the T3 Cura Hair Dryer also features the lock-in cool button. Other than that, it offers you two modes to control speed and three temperature settings. 
Measurements
It weighs 1.75 pounds. The dimensions are 19.55 cm x 7.62 cm x 24.76 cm. 
Benefits & Drawbacks of T3 Cura Hair Dryer
| Benefits | Drawbacks |
| --- | --- |
| Cura Hair Dryer. has a quick-drying system. | Cura Hair Dryer's attachment quality is subordinate. |
| Quiet. | The handle isn't foldable.  |
| Multiple speed and adjustable heat settings. | |
| Digital heat controls. | |
If you want to learn more, check out this review.
In comparison to any regular hair dryer, you'll notice that the size of the T3 Micro-Fit Ionic Compact Hair Dryer is relatively small. To be exact, it's thirty percent smaller. 
This compact dryer offers you a total of three modes to control heat and two-speed levels. The results last long due to its Cool Shot option that maintains your hairstyle in place.
The T3 Micro-Fit Ionic Compact dryer provides an even heat distribution and concentrated airflow. The dryer also provides frizz-free and smooth hair by using a built-in ion generator.
Measurements
This compact tool weighs 2.05 pounds with its dimensions of 26.41 cm x 7.36 cm x 14.47 cm. 
Benefits & Drawbacks of T3 Micro-Fit Ionic Compact dryer
| Benefits | Drawbacks |
| --- | --- |
| Micro-Fit Ionic Compact Hair Dryer is durable. | Micro-Fit Ionic Compact Hair Dryer has heating issues. |
| Storing the dryer is easy. | No diffuser attachment. |
| Multiple heats and speed settings. | |
| Lightweight. | |
You can out this review to learn more about the T3 Micro-Fit Hair Dryer.
READ MORE: How to Remove Concentrator From T3 Hair Dryer
Guide To Buying The Best T3 Hair Dryer
To select the best T3 hair dryer for yourself, consider a few things.
Technology
You can easily find T3 hairdryers with the latest technologies in the market. [2] But do you need these features, or are you better off without them? Let's ponder together.
SoftAir Technology: If you want to dry large sections of your hair at a much faster pace, you can opt for a T3 hairdryer with SoftAir tech.
It emits an ion-rich airflow that helps seal moisture within your hair cuticle. Natural and protect it from hair damage.
Ionic Technology: In case you want your tresses to look shiny, smooth, and frizz-free, go for an ionic dryer. These dryers break down water particles by emitting negative ions.
Ceramic Technology Dryers use infrared heat to dry your hair without damaging it.
Tourmaline Dryers: Much like ionic dryers and those that feature the SoftAir tech, it also uses negative ions. The result is great moisture retention and shiny and frizz-free dry hair.
Dual Voltages
This feature is highly convenient, especially if you travel quite often. Unlike regular dryers, you don't need voltage converters if you have one of these dual voltage dryers.
You can switch voltages.
Versatility
Versatility in a hairdryer is a feature that goes a long way. Always opt for dryers with multiple settings for heat and speed.
Also Check: The Best Hair Dryers That Straightens Hair 
FAQs
Is T3 a good hairdryer?
T3 is among the most well-known hairdryer brands. These hairdryers are known for featuring the latest user-friendly and beneficial technologies. 
Its other features, like foldable handles, always add to the user experience.
Is T3 hair dryer dual voltage?
T3 models such as the T3 Micro Featherweight Compact Folding Hair Dryer and its other T3 Featherweight variant offer dual voltages.T3 has dryers that do not come with a double voltage feature. 
To Sum Up
Without a doubt, go all in and get the T3 Cura Luxe Ionic Hair Dryer for yourself. It's the festive season, so be on the lookout for discounts and sales to add to its current bargain price.
If you're a traveler, space and money are two aspects that are never in abundance. So getting this T3 blow dryer might be your next best investment in your vigorous life!
Resources
1. This Fancy Hair Dryer Gave Me a Salon-Level Blowout at Home [Internet]. Byrdie. [cited 2022 Jan 7]. Available from: https://www.byrdie.com/t3-cura-luxe-hairdryer-review
2. T3 just released a new travel-friendly hair dryer [Internet]. NBC News. [cited 2022 Jan 7]. Available from: https://www.nbcnews.com/select/shopping/t3-fit-hair-dryer-ncna1256543
What are your favorite T3 hair dryers? Let us know in the comments below!
About the Author
Latest Posts
Edith is a self-made entrepreneur with a keen business sense that others admire and a total "can-do" attitude. She's always coming up with new ideas to anticipate her readers' needs and help solve all their toughest beauty and skincare problems. You can find more about her Here.
FOLLOW HER on Linkedin and FACEBOOK and ThoseGraces Beauty Blog
Last update on 2022-12-16 / Affiliate links / Images from Amazon Product Advertising API