BaByliss manufactured a bunch of amazing hairstyling tools to satisfy its different customers and this iPro 230 st395e Steam Hair Straightener is no different. However, Samantha is still skeptical about buying this tool as she doesn't know much about this steam straightening iron.
Before investing her money, she wants to find out the nitty-gritty of this styling tool to make sure that her money doesn't go in waste.
To help Samantha and others like her, in this article, we have discussed everything you need to know about this amazing flat iron so that you can make your purchase without any extra worry.
If you see the value in this product and choose to purchase via my referral links, I may earn a small commission at no extra cost to you.
Check: Best Heat Protectant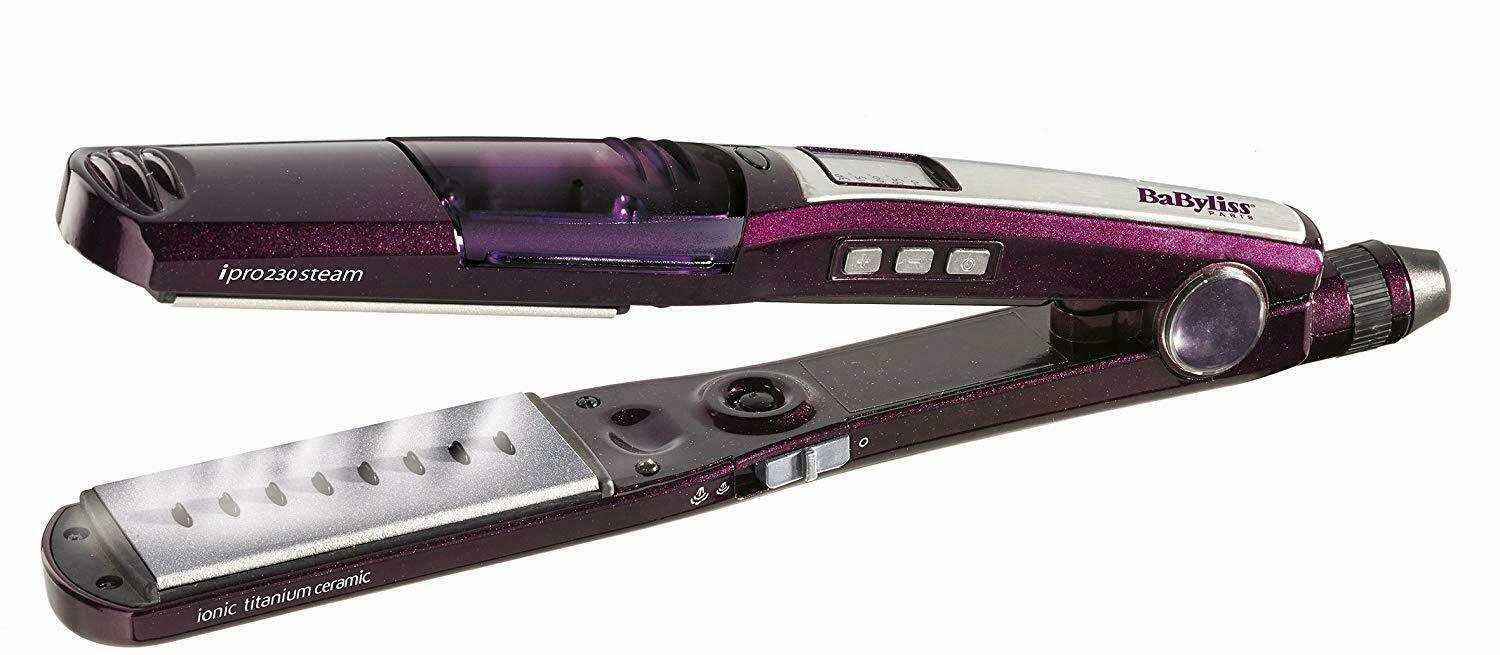 Specifications
Let's have a quick overlook at the specifications of this extraordinary hair straightening steam iron.
| Properties | Value |
| --- | --- |
| Technology Used | Ionic Technology, Steam Technology |
| Plate Material | Titanium Ceramic |
| Plate Size | 1.5 Inch |
| Plate Type | Floating Plates |
| Heater Type | Ceramic Heater |
| Heat Settings | 5 Settings |
| Heat Range | 338°F- 446°F |
| Instant Heat-up | Yes |
| Heat Control System | Buttons |
| LED Display | Yes |
| Weight | 1.3 Pound |
The reason we love this BaByliss iPro 230 Steam Hair Straightener st395e is because of the several extraordinary features it offers to straighten your tresses perfectly. Below, we have talked about its amazing features in detail so that you understand why it is an instant favorite among its users.
Leaves Hair Moisturized and Shiny
The main benefit of this steam flat iron is its Steam Infusion Technology. This advanced technology is designed to replenish and restore the moisture of your hair strands during the straightening process to make sure that your manes are straightened without suffering from over-drying.
The steam vents of this flat iron release an adequate amount of steam to your hair strands that locks in the moisture and nourishment and result in silky, smooth, hydrated straightened tresses.
In addition to the steam technology, ionic technology also helps to keep your manes silky and smooth. It uses a built-in ionic generator to release plenty of negative ions to the hair locks that seals in hairs' natural moisture and nourishment and fights frizz actively so that your hair becomes smooth and manageable like never before.
Perfect for All Types of Hair
Keeping in mind the various distinctive needs of different types of hair locks, BaByliss constructed and coated the plates of this steam flat iron using ceramic titanium material which makes it extremely suitable for both fine and thick hair locks.
These plates acquire the significant qualities of both the materials and heat up with a very high amount of heat in seconds so that you don't have to waste any time after plugging in the tool. However, even though they gain high heat quickly, the ceramic in the plates stabilize the gained heat perfectly and distributes it evenly to each hair strands so that even your super delicate fine strands don't suffer from any heat burns and damages.
Moreover, because of the incredible craftsmanship of BaByliss and the titanium material, the surface of these plates is super smooth and hence, makes sure that your air glides on effortlessly without any snagging or tugging.
Another great feature of these straightening plates is that they offer instant heat recovery. The built-in ceramic heater can sense even the slightest heat loss from the plate surface and replaces the lost heat instantly so that you enjoy a uniform heat throughout the straightening process for quicker and more precise results.
Suitable for Both Damp and Dry Hair
In addition to being appropriate for all types of hair, this steam flat iron is also suitable for both wet and dry tresses. Its advanced Steam Infusion Technology not only straightens your dry hair perfectly but also works wonders on your wet, damp tresses; this mechanism evaporates the excess water from the manes and straightens them simultaneously so that you can enjoy flawless pin-straight style even in your damp hair locks as well.
Doesn't Cause Breakage and Hot Spots
Another excellent feature of this BaByliss steam flat iron is its floating plates. These amazing plates help to limit breakage, snagging, or kinks of your precious tresses by always applying the right amount of pressure on the delicate hair strands and continuously adjusting their angles towards the direction you flip and pull your manes for the straightening.
Moreover, as these curved-edged plates glide on smoothly through the hair locks, it doesn't result in any hot spots and breakage and helps to keep your manes intact even after continuous styling.
Versatile Heat Settings
To make it suitable for all types of hair out there, BaByliss installed 5 different heat levels to this steam flat iron. From 338°F to 446°F, you can choose the most suitable temperatures level according to your styling needs and hair tolerance level.
Moreover, this heat setting is paired with an LED screen and integrated "+ and -" buttons so that you don't find it difficult to set your preferred heat level for the straightening purpose.
Integrated Comb
Unlike many other regular flat irons, this steam straightening iron incorporates a retractable untangling comb to provide excellent convenience to the users. The comb teeth separate the tresses and help the steam to reach every single hair strand to make sure all your manes get an equal amount of vapor for uniform results.
However, if you are not comfortable with this comb, you can always remove it from the straightening plates according to your convenience.
READ MORE: Are Steam Straighteners Better for Hair?
Ensures Exceptional Safety
Aside from being super safe for your hair, this steam flat iron is also safe for your vanity as well. It comes with a heat resistant mat to make sure that you don't burn or damage your table or sink surface by putting on a hot iron.
Moreover, it also includes a 60 minutes auto-shutoff feature to ensure that, even if you forget to turn off the tool, it will shut down automatically and minimize the risk of catching fire and burning your home.
What are the Flaws
Even though this amazing steam straightening iron comes with such amazing features doesn't mean that it is flawless. In fact, this styling tool also has its fair share of flaws. Here, we have discussed its drawbacks in detail so that you know them well before making a final decision.
Expensive
Even though this steam flat iron offers more than a few extraordinary features, its price range still feels a bit expensive. With a price tag of more than $150, it feels quite out of budget compared to some of its close competitors and might influence customers to think twice before making a buying decision.
Not Suitable for Short Hair
BaByliss included two 1.5 Inch plates to this straightening iron to make it extremely suitable for styling long tresses effortlessly. Such wide plates can grab your long manes completely and straighten them in the shortest amount of time.
However, this plate size is not-at-all suitable to style your short hair locks. You cannot hold your tiny manes perfectly inside the blazing plates and hence, cannot enjoy the same straightening results they produce in long tresses.
If you do not like this model due to its drawbacks, then we will suggest you check other top-rated steam hair straightener on this page.
Also Check: Babyliss Ipro 230 Steam Straightener Review
Wrapping Up
Even though this BaByliss flat iron has its fair share of flaws, it doesn't take away from the fact that it is an excellent steam hair straightening tool to style your manes perfectly without causing any burns and damages. As it has more benefits than drawbacks, we think it would be a wise decision to purchase this tool for your everyday hairstyling sessions.
About the Author
Latest Posts
Edith is a self-made entrepreneur with a keen business sense that others admire and a total "can-do" attitude. She's always coming up with new ideas to anticipate her readers' needs and help solve all their toughest beauty and skincare problems. You can find more about her Here.
FOLLOW HER on Linkedin and FACEBOOK and ThoseGraces Beauty Blog