Ever thought of saving your time in the mornings? Got tired of the blow-drying sessions?
Coming out of the shower, blow-drying your hair, and then straightening it, it's quite a routine for the busy women in the morning. If you are one of those busy women who are craving a way that you could save your time with wet to dry hair, straighteners are just for you.
With the advanced steam extraction technology, these flat irons allow you to skip the blow-drying session and style your hair when your hair is still wet.
Sounds interesting? Stay with us. You'll get to know more.
If you see the value in these products and choose to purchase via my referral links, I may earn a small commission at no extra cost to you.
Check: Best Hair Dryer for Regular Use
Best Wet to Dry Flat Irons at a Glance
Have a quick sneak peek at our recommended products before we go into their details.
Don't have time? Here is a quick comparison of our favorites!
Comes with 100% titanium plates that pass optimal even heat all over your hair
It has a unique and advanced steam vent feature that safely absorbs and releases water from your damp hair
Top Wet To Dry Flat Irons
Choosing the best wet and dry flat iron is essential if you want to retain the healthiness of your hair. Many of them are manufactured by popular brands like BabylissPro, Remington, CHI, ISO, Plugged In, Jose Eber, Andis, Conair Infinity Pro, and more.
But not all of them come with the necessary traits. You must be wise while selecting since the wrong one can be hazardous enough to cause long term hair damage.
Let us introduce you to the five most popular wet to dry hair straighteners in the market.
Please have a look at the comparative table below before we discuss them in detail.
ALSO READ: Babyliss Pro Nano Titanium Wet to Dry
Croc Premium Titanium Plate Wet to Dry Flat Iron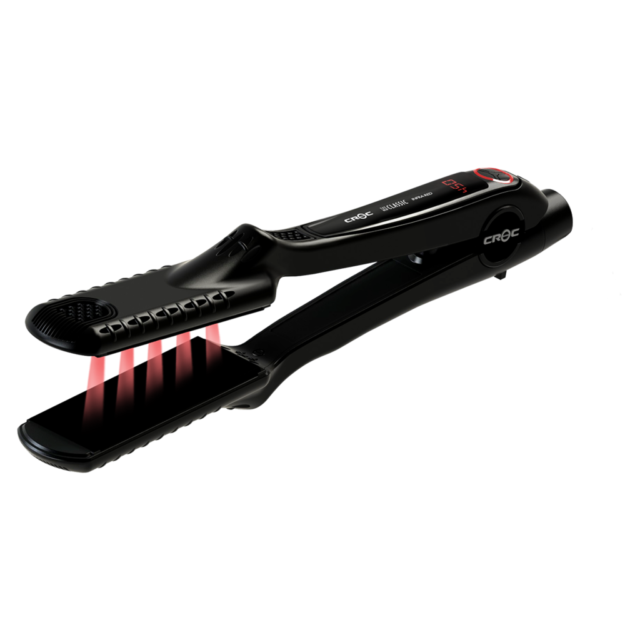 Ranking Position: 1
Our Opinion: Our Top Pick
Croc, the crocodile-jawed flat iron manufacturers, are one of the most renowned brands in the industry. Producing several top-notch hair straighteners over the past few years, they've become a trusted brand name now. The Croc Premium 1.5 wet to dry flat iron is another addition among their top-grade products.
The straightening iron comes with super high-grade titanium floating plates. Unlike most other titanium irons that use titanium hybrids, this unit comes with 100% titanium plates that pass optimal even heat all over your hair.  It heats up super-fast to reach the maximum within 20 seconds.
Its superbly designed body has the vent holes placed at a curved angle on its sideways that keep the ventilated flow of steam away from your face and hands. Besides, with a superior thumb grip, the ergonomic design allows you to maneuver the unit while styling easily.
A coat of tourmaline on the titanium plates makes the glide ultra-smooth. The solid layer of the gemstone helps produce a gentle flow of heat with the assistance of the highly efficient infrared heating system. The coat lasts longer than most other models available in the market.
With a single passing, the unit completely absorbs the static electricity from your wet hair, thanks to its superior anti-static technology. This feature produces amazing results controlling the frizz while also protecting color-treated hair. The advanced technology implemented on its plates helps prevent the possible internal damage of your hair strands, promoting strong and silky looking hair. Setting the cuticle flat and compact prevents potential dandruff.
With 18 accurate heat settings, the unit gives you plenty of options to pick the suitable temperature for multiple hair types. Besides, the advanced smart moisture adjustment functionality completely cuts off the worries of choosing the perfect temperature that goes accordingly with your hair's moisture level.
This is a feature that locks in the temperature once the moisture level reaches the proper levels. Moreover, the color-changing tip makes it further easy to determine when to pass the iron on your hair.
If you want a hassle-free wet to dry flat iron that you can use without any worries regarding hair damage, this is the real deal. If you are a busy girl who has little time to style hair after a shower yet is concerned about accurate styling without any heat damage, look no further. This professional salon-grade flat iron is precisely what you need.
A Few Additional Features
Comes with fully digital heat settings within the range 280F°–450F° with temperature auto adjustment.
1.5-inch wide premium quality titanium plates.
Delivers ample negative ions for the optimal smoothness.
It comes with an ergonomic design that boasts deluxe thumb grips for convenient hold.
Perfectly angled vent holes for additional safety from burns.
It has a built-in ceramic heater, which provides instant heat recovery while also producing consistent heat throughout a session.
Automatically shuts off in 30 minutes when not in use.
The 9-ft swivel cord enables easy maneuvering and adaptability.
Dual voltage [110V – 240V] feature is available.
Offers free hair-clips.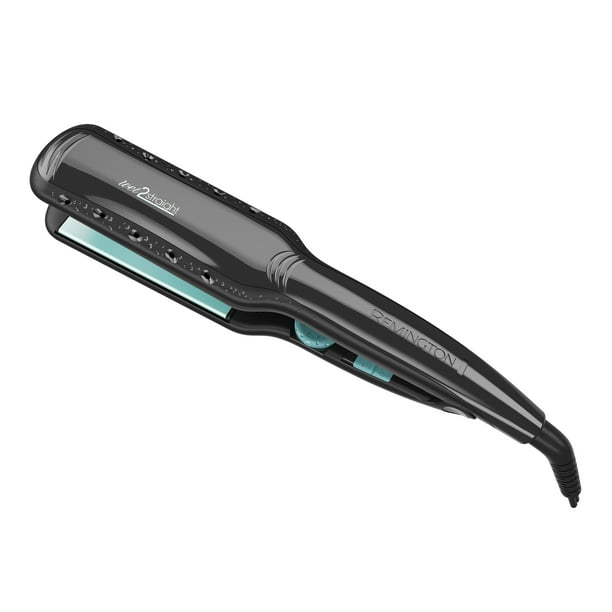 Ranking Position: 2
Our Opinion: Our Runner-up 
Blow-drying your hair first before heat-styling can be time-consuming, if not more damaging to your precious hair. That's why a wet to dry flat iron like the Remington Wet2Straight Flat Iron is worth considering. 
It has a unique and advanced steam vent feature that safely absorbs and releases water from your damp hair while doing its magic of transforming frizzy, unruly locks to a salon-gorgeous look.  
This product is made of ceramic plus titanium plates; therefore, it combines the fast heat-up power of metal titanium and a damage control characteristic of ceramic. Whether it is more beneficial than ceramic-only or titanium-only plated flat irons largely depends on your hair type and personal preference. 
As mentioned, choosing a perfect hot tool mainly depends on your hair type. That being said, the Remington Wet2Straight ceramic + titanium straightener may be more suitable for fine and short hair because of its slimmer size (only 1.75 inches wide). Thicker, longer hair requires wider plates. 
Considering its cheap price tag but with attractive and promising results, this hair straightener isn't bad at all. It might not be the best option for travel enthusiasts as this flat iron does not have dual-voltage functionality. But if the other features outweigh this minor weakness, well, you can always grab yourself a good universal adapter. 
A Few Additional Features
30 heat settings to choose from (with 420°F High Heat that can straighten out the most stubborn locks)
Promises 60% less damage to hair
Built with a wet and dry indicator light
30-second fast heat up time
Has an auto shut off feature
Provides you a Remington 2 Year Limited Warranty
120V
Also Check: Thairapy 365 Wet or Dry Flat Iron
Ranking Position: 3
Our Opinion: Best for The Budget
If the above products seem too pricey to you and you're looking for something that fits within your budget, this Jose Eber Wet and Dry flat iron is your solution.
It might not have the same high-grade titanium plates to deliver the results at one passing, but it has the titanium-ceramic hybrid floating plates that take a few passing to do the job for you without any harm. And the heating system hardly wastes much time to heat up, taking only 20 seconds.
Having a tourmaline coating over its plates, the iron ensures gentle and even heat is distributed all over your hair strands. The static absorption technology implemented on it is good enough to reduce the frizz effectively, while the flow of negative ions gives you a shiny, silky look.
This unit features the essential moisture adjustment functionality to lock in the necessary moisture required for your hair. A wet/dry indicator light is also there to let you know when it's suitable to straighten your wet or dry hair. However, you must be careful with the temperature setting since it won't adjust the required temperature automatically.
This budget wet to dry flat iron also has an ergonomic design for comfortable handling. The dual voltage capability makes it a great travel-friendly option too.
A Few Additional Features
1.5-inch wide titanium-ceramic floating plates.
Adjustable heat settings within the range 265F°–450F°.
Ionic technology.
360° swivel cord for comfortable maneuvering.
Dual voltage [110V – 240V] feature is available.
Jose Eber Wet & Dry Flat Iron Straightener Dual Voltage 110V-240V, Use on Wet or Dry Hair, Wide Floating Plates, Charcoal
【 SAVE TIME / EASY TO USE 】The Wet or Dry Styling Iron lets you dry damp hair and straighten simultaneously, eliminating the need to blow-dry your hair before styling. This means less style time and less exposure to hair damaging heat.
【 WIDE PLATES 】1.5 Inch Tourmaline Floating Plates minimize styling time and reveals smooth, sleek and healthy-looking hair
【 ADJUSTABLE TEMPERATURE 】Adjustable temperature from 265F to 450F (130C - 230C) suits multiple hair types for healthy styling.
【 DUAL VOLTAGE 】Worldwide compatible. Dual voltage 110-240V
【 100% SATISFACTION GUARANTEE 】Jose Eber products include a Limited Lifetime Guarantee.
Two More Alternatives
Parwin Pro Wet Dry Straightener
The Parwin Pro is the only hair straightener on our list that has ceramic plates instead of titanium. So it doesn't heat up as fast as the others and provides a much slower operation.
With 330F-450F temperature range, it doesn't offer many options for fine delicate hair. But the ceramic plates along with the tourmaline coat definitely cut off any worries regarding hair burn.
This unit lacks both the smart moisture adjustment and wet/dry indicator features, making it not so convenient for a flat iron. Besides, you may risk losing your natural moisture if you don't adjust the temperature properly.
It comes with an anti-static technology for frizz reduction, but it takes more than a couple of passing to get the desired results.
We do not recommend the Parwin Pro. But considering the infra-red technology and the ceramic tourmaline plates, you may still pick it if a burn-free operation is your only concern.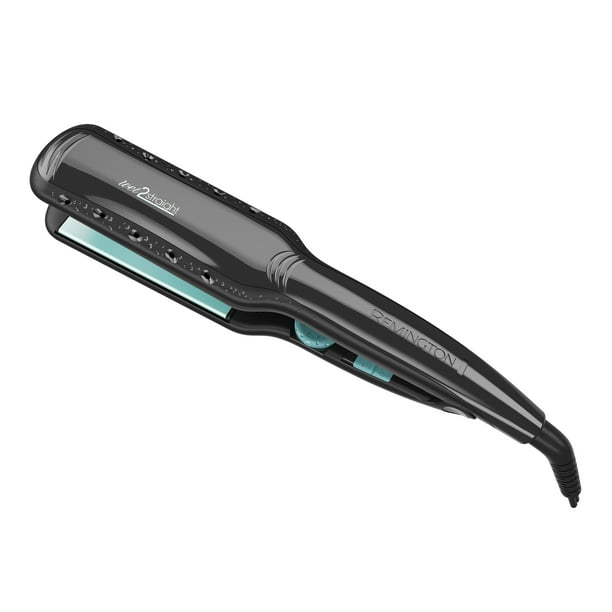 The Remington S7330A wet 2 straight flat iron comes with specially designed titanium-ceramic plates that heat up as fast as 30 seconds.
It produces temperatures up to 420F with 30 different heat settings to suit a variety of hair types. However, the lack of floating plates means you have to work hard to reach even heat in each section of your hair.
The iron does not come with infra-red technology and tourmaline coating, so you can't expect the extent of gentle heat the other flat irons in our list provide. You must be careful while choosing the heat levels and while applying the iron to your hair.
Despite the insufficient safety features, the iron does include a wet/dry indicator light that shows when the temperature is best for dry hair or wet hair.
A Comparative Chart for Clarification
[table id=96 responsive="scroll"/]
Wet To Dry Flat Irons Buying Guide
What is a Wet to Dry Flat Iron?
In simple words, wet to dry hair straighteners are the straighteners with the ability to dry and straighten your hair at one go. You can barely discern them from regular flat irons since they have the same looks and common traits. The drying technology is what tells them apart.
Drying your hair while straightening means it enables you to skip the step where you blow-dry your hair before applying the flat iron on your hair. However, you cannot use wet to dry straighteners on water-soaked hair. Rather you need to dry your hair with a good microfiber towel and reduce its dampness first.
When you use a regular flat iron on your wet hair, it can damage your hair by a substantial margin. It forcefully expands the inner water molecules of your hair to make them gaseous. Then, the straightener shatteringly bursts the molecules out of your hair, and that's why you hear the cracking sound while using a regular iron on your wet hair.
Cutting off the blow-drying stage and using a unique technology, wet and dry flat irons allow you to style on when your hair strands are still full of moisture. The steam extraction technology enables them to squeeze out the water from your hair through their steaming vents and humidify your hair at a single attempt. Thus it protects your hair from flash burn, keeps your hair well-moisturized, and saves your time.
Who Can Use It?
Wet & dry hair straighteners are specialized for those busy girls always in a hurry having no time to blow-dry their hair after a shower, but still want their hair to look straight and properly organized.
They come to your rescue in those rushed situations when you're already late for the office, hurrying for a party, and similar contexts, where there's little time for hair drying. A wet to dry flat iron saves a lot of your time since it cuts off the time-consuming hair drying stage after a shower. They're good to go after you've towel-dried your hair with a microfiber towel.
A wet & dry flat iron suits every hair type, be it coarse, fine, or curly. But you must be cautious with your hair size if you are to use one. Long hair copes best with these types of flat irons since most of them come with 1-inch to 1.5-inch plate width. If you have short hair, you might face some difficulties with the maneuver while also having to be extra careful not to entangle your wet hair between the plates, for it can completely break your hair.
Benefits of Using a Wet and Dry Hair Straightener
Let's have a look at how you can benefit from a wet and dry flat iron.
Saving time is the foremost purpose of using a wet to dry flat iron. They are designed in a way to dry and straighten wet hair simultaneously. It speeds up your styling routine, skipping the blow-drying phase after a shower.
Using it on nearly dry hair, wet to dry hair straighteners leave hair smooth and straight for much longer than traditional hair straighteners. It's because of the smart moisture adjustment feature, which retains the amount of moisture required for your hair. So your disarranged hair looks sleek and straight until the next time you shampoo them without requiring touch-ups frequently.
The static absorption technology helps absorb static efficiently from wet hair to keep it frizz-free for much longer than traditional flat irons. Moreover, when the iron steam-extracts the excess water, the static is completely eliminated, closing the cuticles for a smoother, shiner, and silkier looking hair.
It works outstandingly well in humid weathers where your hair tends to rouse unusually. In those situations, these hair straighteners help refrain the hair and locks in firmly for longer periods.
You can use it on your dry hair too, just like your regular flat iron.
The Drawbacks
Wet to dry flat irons require you to dry your hair up to 85-90% before using them. So you must work well with your towel. Using a good microfiber towel is the best practice.
It requires you to follow the usage guidelines strictly. A bit of carelessness may cause irrecoverable damage.
Because of the transition of electricity over the water coating on your hair, this flat iron may cause unexpected electric shocks. So you must be extra careful to handle the iron and try not to handle your wet hair directly.
The Core Features of a Wet to Dry Flat Iron
There are some core features of a wet & dry hair straightener, which differentiates them from the traditional hair straighteners in terms of capabilities. Let's get to know them in detail.
Steam Extraction Technology
Every wet to dry flat iron is implemented with an integrated steam extraction technology. It's the key feature of these flat irons that primarily distinguishes them from the regular irons.
This technology allows a wet to dry flat iron to steam extract the excess water from your hair. It generates high heat while gliding over your hair through a gentle process so your hair doesn't get damaged. And at the same time, it vaporizes the remaining water molecules from your towel-dried hair. The steam is then vented out through the attached vent holes within the iron. That's how it dries and straightens your hair at one go.
You won't find this feature in a traditional flat iron. So when you apply it to your wet hair, the water molecules stay put within your hair instead of getting vaporized. As a result, your hair badly breaks with a shattering sound for permanent damage.
Drying Vent Holes
Vent holes are another essential feature of wet and dry flat irons, differentiating them from the traditional ones. You can find them either on the sideways of the jaws or within the plates or both. When the steam extraction technology extracts the excess water from your hair, these holes vent out the vaporized water. Venting out the steam completely, this feature makes sure there's no excess amount of water left on your hair. So your hair gets dried quickly.
If you want your flat iron to do the drying job properly, you'll want these holes on them. Because without these vent holes, the extracted steam doesn't get the proper getaway to leave your hair. It may cause the water to go back to your hair strands, resulting in improperly dried hair. It may not seem so big an issue, but when each section of a hair strand is not equally dried, it causes your hair to get crinkled or badly dented.
Infrared Heating System
The infrared heating system conveys heat energy from a higher temperature body to a body with lower temperatures through electromagnetic radiation. A flat iron with an infrared heating system passes gentler heat than a conventional heating system. It penetrates your hair more evenly and deeply while acting much faster as well.
Despite passing a higher heat, it enables you to spruce up your hair with a mild felt-heat overall, which helps minimize the hair damage. For drying off your wet hair and straightening it quickly, you need to pass high heat through your hair, but since the risk of damaging your hair is a possibility, you'll want something gentler to prevent that damage. The infrared heating system is the best solution in this regard. So you'll want your wet to dry flat iron to offer this feature.
Smart Moisture Adjustment
Wet to dry hair straighteners boast an automated functionality that detects and locks in the moisture necessary for your hair.
Traditional flat irons lack this functionality. When you apply it to your hair, it passes heat regardless of the amount of moisture already in your hair. So it's very much possible that it'll burn your wet hair if you do not adjust the temperature accordingly. Besides, you'll lose your natural moisture in the process and result in permanent rough, dull hair.
On the other hand, wet to dry flat irons with the smart moisture detection and adjustment technology detects and seals the necessary moisture in your hair. So instead of an overly dried look, your hair gets a shinier look.
Material
The plate material of these flat irons can be titanium, nano-titanium, titanium-ceramic, ceramic, and ceramic-tourmaline. But we have figured out the plates must contain titanium if you want to get the best service. Here's why.
Titanium plates deliver the quickest heat transition for superior, immediate results. They heat up faster than ceramic plates. Generally, they take less than a minute where some models get heated up quickly as a flash (20s-30s). And they also pass heat a lot quicker than ceramic. Since quickness is the key purpose of a wet to dry flat iron, titanium gets the upper hand over ceramic.
Tourmaline gemstone is another vital element for these flat irons. It's a semi-precious mineral, ground up and used as a coating over the plates of hair straighteners. When titanium plates are covered with tourmaline coats, they become even smoother. The chances of hair damage or caught hair on the plate are less likely with smoother plates. Since the chances of hair damage are more with a wet and dry iron, you'll want yours to have a tourmaline coat on it.
Keeping a consistent heat balance throughout a gliding, a tourmaline coat is a lot less likely to suffer heat loss or chip. As for a wet and dry flat iron, the importance of tourmaline coating is even more. It makes sure of an even heat distribution all over your hair while also adding a lasting glossier effect to your hair. It also aids the smart moisture adjustment feature to seal in the natural moisture.
Anti-static Technology
Although the anti-static technology is found in several traditional flat irons, wet to dry flat irons allow you to make optimal use of it. And it's a vital feature as well. This technology helps absorb the static from your hair to make your hair frizz-free.
After passing the iron on wet hair, it leaves your hair more static when dried than passing on dry hair. If your iron isn't efficient enough to absorb the static completely, you won't get your desired frizz-free look. Besides, the chances of potential dandruff are high if there's static near the roots after drying it with a wet & dry straightener. So it's a must-have for your wet and dry flat iron.
Wet/dry Indicator
A wet/dry indicator indicates when the heat is suitable to style your wet hair or dry hair. In some irons, they are indicator lights that blink and change color when a suitable temperature is reached when others come with color changing tips that do the same job. It notifies you whether your hair is ready for ironing and also notifies when you've properly dried your hair out.
It is bothersome to pass the iron over your hair strands while keeping an eye on the temperature setting to make the necessary adjustments. Since a wet and dry hair straightener requires you to be extra careful with the temperature setting, this is a big hassle for sure. The wet/dry indicator feature comes really handy in this regard, cutting off that hassle.
With the help of the smart moisture adjustment feature, this indicator detects the suitable temperature for your wet hair. And since you can use your wet to dry straightener on dry hair, too, it detects the best temperature for dry hair as well.
Quick Heating
For wet to dry hair straighteners, quick heat-up is a must. After all, what's the use of buying such a straightener that consumes minutes in heating up when quickness is the sole purpose of your purchase.
Many wet and dry irons take up to two minutes, but the best ones take no more than 20 seconds, and you must go for those to save your precious minutes in hurried situations. Besides, an iron that takes longer to heat up takes more pass-overs on your hair too.
Floating Plates
Floating plates work great in reaching out and adjust with your hair strands. They flex accordingly and adjust to make sure every part of your hair strands gets the proper heat as you glide over the iron on each section of your hair.
As we've said before, your flat iron needs to deliver even and balanced heat in each section of a wet hair strand, or it can get your hair badly crinkled otherwise. As reaching out to those sections with affixed plates is a tough job in a hurried situation, floating plates make it easier for you by speeding up the process.
A Few Additional Features
Among other notable features of wet & dry flat irons, you'll find the following.
Adjustable heat settings to suit every type of hair.
1"-2" wide plates.
Curved edged plates.
Ionic technology.
Automatic shut-off.
The Must-haves of an Ideal Wet to Dry Flat Iron
Before purchasing a wet to dry hair straightener, don't forget to compare their core features. The below chart comes to your assistance.
[table id=95 responsive="scroll"/]
How to Use a Wet to Dry Flat Iron
As we've said before, you must dry your hair up to 85-90% using a microfiber towel before you can use it on your hair. Also, make sure your hair isn't entangled. Make sure to be extra careful to stay safe from burns if you are a beginner.
You can follow the step-by-step procedure down below.
Wrap a towel around your head to get the excess water out.
Use a comb with wider teeth to disperse your hair properly.
Apply a heat protector to prevent any possible hair damage.
Ensure your flat iron is on wet mode (check the wet/dry indicator) and choose the temperature appropriate for your hair type.
Separate your hair into four sections.
Start with the lower sections first. You'll hear a hissing sound when the excess water is extracted as steam.
While slowly moving the iron down your hair, keep it vertical with the section you're styling. Keep it tightly closed and move it in a consistent motion. Do not 'stop and start over and over again, for it can cause ridges.
Keep away the drying vent holes from your head and hands to avoid burns.
Final Word
A wet to dry hair straightener is the preferred tool for those busy women who won't compromise perfection and professionalism in hair styling even when they have little time for a blow-dry session.
By now, you must have got a comprehensive idea about wet to dry flat irons and how they work on your wet hair. So don't get worried about styling your wet hair ever again. Choose one from our recommended list that suits you and have the stylized hair you deserve. After all, you cannot compromise your beauty even when your hair is damp.
About the Author
Latest Posts
Writer and Content Manager at InStraight.  Lovella's philosophy is that everybody's beauty is merely a reflection of loving yourself . ♀️ She loves to write and discover new cultures. Find her on Facebook
Reviewed By
Last update on 2022-12-16 / Affiliate links / Images from Amazon Product Advertising API