Is The Simplehuman ST3002 Makeup Mirror Worth the money?
In this article, we have talked about all the positives and negatives of this best wall-mounted makeup mirror lighted so that you know more about this product and make a buying decision accordingly.
This article contains affiliate links. We earn a commission if you make a purchase.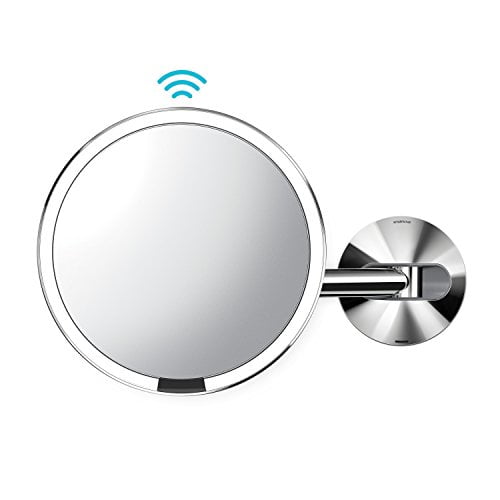 Specifications
| Properties | Value |
| --- | --- |
| Specialty | Tru-lux light system |
| Mirror Size | 8 inches |
| Mirror Size | None |
| Installation | Hardwired/ Plug-In |
| Power Source | Built-in lithium-ion battery, Direct Electricity |
| Mount Type | Screw |
| Lumen | 600 LM |
| CRI | 90 |
| Dimmer | No |
| Number of Mirror Panels | 1 Panel |
| Arm Length/ Extended | 12 Inches |
| Arm Length/ Extended | 5x |
| Fog Resistance | No |
| Light number | 1 Halo LED |
| Life Span | 40,000 hours |
| Dimension | 13.8"W x 3.1"D x 9.1"H |
There are several reasons that made this Simplehuman Mirror one of the most popular lighted mirrors that it is today. 
Let's analyze and discuss the top qualities of this tool that makes your face viewing experience even more delightful.
1- Ensures the Excellent Lighting
With the wrong lighting, makeup colors can fool you. But not with this lighted makeup mirror from Simplehuman. This amazing piece of vanity accessory produces the most natural, true to life reflection of your face, thanks to Tru-lux light system. Simplehuman incorporated Tru-lux light system in the LEDs of this mirror to simulate natural sunlight so that you can see even the subtle variations in your makeup color and know if its flawless or not.
2- Long-Lasting LEDs
In addition to the Tru-lux light system, another great feature of these LEDs is their durability. Simplehuman installed surgical-grade LED lights in this model to make sure that they are super long-lasting (provides up to 40,000 hours of non-stop lighting service) and provides consistent even lighting to the users for incredible illumination of their face. These improved LEDs also ensure that there is no light loss or any hot spots for the convenience of the users.
3- True to Life Reflection
Another excellent aspect of this mirror is that it produces a bright and most natural reflection of your face. With a color rendering index of 90 CRI and lumen of 600 LM, the lights of this vanity accessory can accurately reproduce the colors of the object it illuminates and provides a clear, vivid, and true to the color reflection of your face.
Moreover, as the reflective surface is free from distortion, even around the edges, it offers superior reflectivity and displays a real-time, spectacularly clear view of your face.
4- Smooth, Effortless Adjustability
Keeping in mind about the convenience of its users, Simplehuman added a stainless steel constructed telescopic arm to this vanity mirror to not only make it super strong and durable but also to provide phenomenal adjustability.
This telescopic arm moves left to right and up and upwards and downwards smoothly to make sure that you can adjust it effortlessly at any angle suitable for you.
The viewing panel also tilts completely to add to its adjustability.
Moreover, this arm is extendable up to 12 Inches so that you can pull it out in times of need and pull back for excellent storage.
Read our guide on how to install a wall-mounted makeup mirror.
5- Automatic Mirror Light up
The most versatile feature of this vanity mirror that sets it apart from its competitors is its intelligent multi-sensor feature. With this integrated advanced sensor system, the LEDs automatically lights up as you bring the mirror near to your face for the viewing purpose. The lights remain "on" as long as you are near the mirror. And when you walk away, the lights turn off automatically saving power as well as light life.
6- Magnified Reflection
The viewing panel of this Simplehuman lighted makeup mirror is adorned with 5x magnification to make sure that you can see every detail of your face in exceptional detail for flawless makeup application. The 5x magnification also allows you to see your entire face at once without sacrificing the detailed reflection.
7- Dual Power Source
Promising to provide an incredible experience, Simplehuman provides its users the flexibility to use this mirror with a dual power source. You can either use direct electricity to turn on the mirror or recharge its built-in lithium-ion battery to use it cordless up to 5 weeks on a single charge- the choice is all yours.
What's Not So Great About The simplehuman wall mount makeup mirror?
In addition to its extraordinary features, this Simplehuman makeup mirror with lights also comes with a few flaws. We have listed and talked about them below so that you don't feel cheated after buying for your vanity area.
1-Expensive
Even though this mirror from Simplehuman comes with an excellent build and amazing features, it still feels a little out of budget. At a price tag of more than $150, it is way more expensive than its close competitors and might repeal customers from making an instant buying decision.
2- Comes With Only One Mirror Panel; No Magnification Variety
Customers want everything in a mirror; and multiple viewing panels with different types of magnifications are one of them. But this simplehuman mirror fails to do that. It comes with only one mirror panel and no 1x, true to life magnification limiting users viewing choices.
From a vanity mirror of such a price tag, customers' aspect all these benefits.
3- Not Suitable for Bathroom Use
Another drawback of this piece of vanity fixture is that it is not fog-resistant and hence, cannot be used in the bathroom according to your convenience. Without a defogger, this mirror will collect steam and cloud the viewing surface making it quite impossible to see your face clearly after every bath or face wash.
4- The Light doesn't Dim
With 600LM lumen, the LED of this lighted mirror is too bright, which might dazzle users' eyes. To downplay such brightness, Simplehuman didn't incorporate any built-in dimmer so that you can increase and decrease the brightness according to your preference and your eye's comfort level.
5- The Cord is not long enough
To charge the integrated lithium-ion battery, this mirror comes with an electrical cord that needs to be attached to an electrical socket. However, the cord is just 3 foot long which means that you have to place the mirror extremely close to an electrical socket; this might cause severe inconvenience to users who don't have a power socket near to the place where you mount it.
Another great wall-mounted makeup mirror to consider is the Cozzine makeup mirror.
Conclusion
Now that you know everything you need to know about this Simplehuman vanity mirror, we are sure that you would be able to make a wise decision whether to buy it or not. There is no doubt that it's an excellent piece of vanity accessory, but we don't think it's worth such a high price. You can check the best makeup mirror review guide.
Sources
About the Author
Latest Posts
Sylvia is one of the most joyful people you'll ever meet. She is a high advocate of self-love and encourages women to take care of themselves both mentally and physically. She loves girly talks especially salon talks (a little gossip doesn't hurt) and spends most of her free time on skincare or hair care. You can find more about here HERE. Find her on LINKEDIN