Are you tired of the volume, unnecessary knots, and coils in your natural hair? Looking for a styling tool that would help get rid of these problems without damaging your precious locks?
If so, then you have come to the right place!
Because I have the answer to your problems, and that is a HOT HAIR COMB!!
I have discussed everything you need to know about this hair styling tool and also listed the Best Hot Combs for Natural Hair.
So without any further delay, let's begin.
If you see the value in these products and choose to purchase via my referral links, I may earn a small commission at no extra cost to you.
Check: Black 90s Hairstyles
A Quick Review of Our Top Favorite Hot Combs for Natural Hair
I have picked some of the best hot combs available in the market to style and straighten your natural tresses precisely with extreme care and attention.
But before going into elaborate details, let's take a sneak peek of them for a very raw idea:
Don't have time? Here is a quick comparison of our favorites!
READ MORE: How to Use a Hot Comb?
Top Hot Combs for Natural Hair
I have mentioned quite a few times before that natural, black tresses are super voluminous and need to be tamed down successfully to attain a silky, smooth outlook.
And to turn this hair [1] type into bone straight locks without kinks and knots, you must use a plug-in hot comb that is gentle and at the same time can style afro manes perfectly without exposing them to any unnecessary heat damage [2].
I have spent numerous hours researching and reviewing different electric combs from different brands (Andis, Wahl, Conair, Laila Ali, Enzo Milano) and selected a few that performs exceptionally well on black hair compared to other combing tools available in the market.
MUST READ: How to Clean an Electric Hot Comb
Ranking Position: 1
Our Opinion: Smooths & Softens Natural Hair Quickly
Andis is one of the oldest brands in the market that manufactures hot comb to make your thick, Afro-American hairs smooth, flat as well as manageable.
And because of its amazing features, budget-friendly price tag, and ability to produce knot-free straightened manes; this styling tool didn't take much time to score the top position in our list.
Let's start our discussion with the construction material of this electric comb.
Andis constructed this fine teeth comb with 24K gold and coated it with ceramic to ensure high yet safe application of heat to the hairs.
Gold is an extremely good conductor of heat [3] and hence, gains heat super quickly (the comb heats up in just 30 seconds) for the styling purpose while the ceramic helps to keep the heat gentle so that your delicate tresses don't suffer from any heat damages and burns during the combing session.
The teeny-tiny gold particles left in the hair combined with the negative ions from the ceramic keep your manes moisturized and nourished, and reduce the possibility of any hair breakage.
Additionally, the gold construction ensures extreme sustainability and therefore, lasts for an extended period of time making the tool super durable.
Another feature that assists to retain the temperature level consistent throughout the styling process is the instant heat recovery system.
This advanced technology helps the teeth to maintain the heat level by sensing any heat loss from the surface and quickly recovering the heat so that you can style your manes quickly and enjoy some free time in the morning.
One more great aspect that makes this my top electric hot comb pick,  this professional quality hair styling tool comes with 20 different heat settings with a rheostat dial control, which makes it easier for you to choose between your preferred heat levels easily without being confused.
Few Additional Features
Comes with an auto shut-off feature to ensure the safety of the users
The tangle-free swivel cord of the tool provides freedom of movement and ease of use
The dual voltage feature makes it suitable to use internationally
Includes a red indicator light to signal when the comb in on for additional safety
Conveniently placed controls and switches for extra ease of operation
Available in two different colors to choose from
Andis provides a 5 Year Limited Warranty period for this tool to ensure great performance
Sale
Ranking Position: 2
Our Opinion: Budget-friendly yet Effective at Straightening Natural Hair
This Gold N Hot Professional Styling Comb is an alluring-looking hot comb that will undoubtedly enhance the beauty of your vanity area.
But this is not the reason we consider it to be our second-best choice.
The reason this heat styling comb grabbed the second position in our list is that it offers all the features we look for in a hot comb for natural hair and that too at a very reasonable price tag.
However, it ended up being in the second place because, unlike the Andis High Heat Press Comb, it doesn't come with dual voltage and auto-shutoff features to provide additional convenience to its users.
Other than these minor gripes, this straightening comb for natural hair is just the perfect one for you.
To start with, Gold N Hot constructed the teeth of this styling tool using pure 24K Gold to provide the best styling experience to its users.
Aside from being nice looking, gold is known to be a good conductor of heat and therefore, helps the teeth to retain high heat for a long amount of time for a quick and precise styling session.
Moreover, the teeny-tiny gold particles from these teeth help to enhance the hair follicles and keep the tresses moisturized and well-nourished to give your coarse natural manes a very silky and flowy vibe.
The 100% gold construction also ensures extended durability of the tool as it is extremely sustainable and doesn't rust or corrode ever.
Aside from the pure gold construction, another feature of these teeth that will blow your mind is their shape.
The wedge-shaped teeth of this hot comb ensure precise pressing so that you can enjoy perfectly straightened tresses without trying too hard.
These teeth also provide immense styling control and convenience.
One more aspect of this electric straightening comb for black hair that would make your straightening process even more delightful is its temperature control mechanism.
Gold N Hot incorporated multiple different heat levels in this comb, ranging from 200°F-500°F so that you have the flexibility to choose just the right heat according to your hair's tolerance level and styling needs.
Moreover, to make choosing between the temperatures extremely easy, this comb has a detailed rheostat dial that can be turned clockwise and anti-clockwise to set the preferred level effortlessly.
Few Additional Features
The ergonomically designed handle provides a non-slip yet comfortable grip
At 12 ounces of weight, this hot comb is super lightweight and easy to maneuver
Comes with a 9 ft. long cord with swivel end for freedom of movement
The "power indicator light" signals when the tool is plugged in to avoid accidents
The built-in safety stand ensure additional safety to the user as well as the counter
Backed up by a 1 Year Limited Warranty Period to assure phenomenal longevity
Sale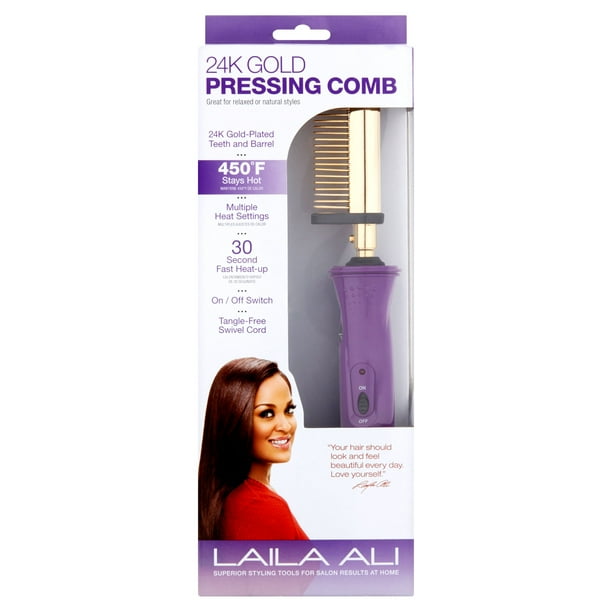 Ranking Position: 3
Our Opinion: Delivers High Heat for Quick Styling
Another of our favorite hot combs to smooth and tame natural, Afro-American hair locks is this Laila Ali styling tool.
Because of its incredible features, alluring design, and its safety measures, this hot styling tool didn't take much time to grab our attention and secure its place in this best's list.
Laila Ali constructed the teeth of this tool with 24K gold material to not only make this comb exceptionally durable but at the same time also to make sure that it can style and straighten your manes super quickly yet safely.
The gold teeth of this comb can absorb the highest amount of heat (or your desired temperature level) in just 30 seconds and retain the heat for a long time period so that you can straighten your "difficult to tame" manes easily and effectively.
The microscopic gold particles from the teeth help to enhance the hair follicles, keep hairs moisturized and nourished and also ensure that there is minimal to zero heat damage and burns even after exposing them to high heat.
This electric comb comes with a multiple heat settings option accompanied by a detailed labeled rheostat dial control to make it extremely easy for you to choose the preferred heat level easily without much hassle.
Laila Ali made sure that this tool can adopt a maximum of 450°F of heat at once so that you can not only style your tough tresses flawlessly but at the same time also cut down styling time drastically for faster and more effective results.
To maintain this heat level throughout the entire straightening session, this hot comb comes with the revolutionary instant heat recovery technology.
Keeping the temperature of the tool consistent, and assists in reducing the styling time by several notches so that you don't get late for your work or party.
Few Additional Features
Comes with a built-in safety stand for ease of use and maximum safety of the user
The swivel end of the cord ensures tangle-free, both hand operation
Heat resistant handle ensures a comfortable grip and safety of your hands
Includes separate on/off switches for more convenience
Incorporates a red "on" indicator light to provide additional safety measures
Ranking Position: 4
Our Opinion: Styles Hair Without Heat Damage and Hot Spots
Over the past several years, Conair has been satisfying its clients with excellent quality and versatile hairstyling tools, and this Hype Hair Ultra-Hot Hot Comb is no different.
It comes with more than a few amazing features and aspects, but it landed itself in the 3rd position because, compared to our top two preferences, this styling tool has a lower maximum heat level.
(Its highest temperature reach is 345°F) and might take slightly longer to style your natural tresses.
But then again, Conair incorporated an optional Turbo Heat feature to this styling tool that, when activated, increases the temperature of the comb by 36°F so that you have more heat and power to straighten your tresses quicker.
The 24K gold construction of this tool also helps to style your stubborn thick natural hairs quickly yet safely.
Conair constructed the teeth of this electric hair styler with gold, to heat up the comb super quickly with your desired temperature (in just 30 seconds) so that you can start the styling session as early as possible after plugging in the tool.
Additionally, the gold-constructed teeth adapt to high temperatures very quickly and remain hot for a long time making it easier for you to straighten your tresses flawlessly without much effort.
The instant heat recovery system also plays a vital role in keeping the tool hot for a long period by sensing the slightest amount of heat loss from the surface and replacing it quickly so that there is a consistent heat level in the too.
Even though you are applying high heat to your hairs for styling purpose, there is zero chance of burning or damaging them.
The teeny-tiny gold particles from the comb help to enhance the hair follicles and keep them well protected by locking in moisture and nourishment so that you don't have to worry about hot spots, heat damage, and hair breakage.
Few Additional Features
Comes with a heat resistant handle for a safe and comfortable grip
Includes a labeled rheostat dial control to select the preferred temperature effortlessly
The auto-shutoff feature assures additional safety and security
Comes in a recyclable package to maintain the environment
Conair provides a 2-year Limited Warranty period to this tool to ensure durability
Conair Hype HairUltra-Hot Hot Comb
Uniform heat recovery system maintains optimum temperature for consistent styling
Optional Turbo Heat feature increases the temperature up to 20°C/36°F, maximizing results
Gold anodized comb
30-second heat-up to 350°F
30 heat settings for all hair types, including 15 high-heat settings for coarse hair
READ MORE: Hot Comb Vs Flat Iron
Ranking Position: 5
Our Opinion: Safest Electric Hot Comb
Secura is built of high-quality ceramic & PTC components, which allow it to heat up swiftly while still protecting your hair from damage.
There are six heat settings to accommodate all hair types that require straightening.
The Secure comb is without a doubt one of the best electric hot combs for natural hair. You can straighten your hair while simultaneously adding volume and curling the ends by holding it differently and shifting directions.
Additional Features
LED temperature indicator.
The swivel cable allows you to move the comb however you like.
Secura Hair Straightener Comb with PTC Ceramic Heating Elements and 6 Levels of Temperature Control Hot Comb Hair Straightener
SIMPLE USE AND HIGH EFFICIENCY: With the premium PTC ceramic heating components, the hair straightener takes less than 40 seconds to reach the heating temperature of level 1 and less than 80 seconds to achieve the heating temperature of level 4, which is efficient and timesaving for your daily beauty routine.
SIX FLEXIBLE LEVELS TO ADJUST TO YOUR HAIRSTYLE NEEDS: Six (6) levels of heating temperatures can be chosen to fit various hair conditions. Our special design, with 23 ceramic heating elements, allows the comb to quickly contact a large portion of the hair at one time. With the 6 different temperature controls and the evenly dispersed heat, professional-looking results can be achieved easily and quickly.
SAVE TIME AND MONEY: The Secura Hair Straightening Comb allows you to straighten and curl your hair at home, on your own, saving time and money. The distinctive LED indicator provides you with a visible indicator of the temperature of the comb. Also the 360 degree rotating cord means you can hold the device at any angle for the best straightening effect without the possibility of kinking the cord.
LESS HAIR LOSS, LESS HAIR BREAKAGE: Compared with traditional and ordinary heating material, the high-quality PTC ceramic heating components of the Secura Hair Straightening Comb can minimize the breakage and splitting of hair, as well as hair loss.
STYLISH AND PREMIUM DESIGN: Not only does this straightener have a unique and luxurious design, but it is also made of the highest quality material and has the latest in technology compared to the ordinary hair straightener. 2-Year warranty. We guarantee your satisfaction.
Ranking Position: 6
Our Opinion: Safe to Use
This is an improved form of an electric hot comb: so rather than conventional teeth, it features a smooth-looking wave.
The design concept keeps scalds away from your scalp.
Aside from that, it looks extremely beautiful. The tool warms up to 365°F in under a minute and maintains that temperature throughout the straightening process.
Additional Features
Six-level temperature design
Swivel Cord
LED indicator
Six buttons for every mode
Two-color schemes 
Reasons for Not Choosing
Kentucky Maid SPKM 27 Straightening Comb
This Kentucky Maid hot comb was very popular after it was first released. But because of the following aspects, we couldn't suggest this tool as one of the best to straighten natural, black hairs:
First of all, this SPKM 27 is a stove hot comb which we do not prefer what-so-ever. Stove combs can get very hot and burn your tresses down beyond repair. In one word, this type of tool is incredibly dangerous for your hairs as well as your hand and skin.
Additionally, as it is a stove tool, there is no temperature control dial or button so that you can choose your desired heat level; the heat is entirely dependent on the time you hold this tool on the flames.
Furthermore, the brass and copper teeth of this stove comb get exceptionally hot and have the potential to burn and harm your precious tresses as well as your scalp.
This Red by Kiss hot comb might make its way to many lists, but we don't think this is the right tool for styling natural, Afro hair locks because:
Red by Kiss constructed this comb using ceramic tourmaline material, which is not suitable for thick, black tresses because this hybrid element cannot generate as much heat as needed to alter the shape of such stubborn type of hairs.
Moreover, one of the must-have features, the instant heat technology, is not present in this tool, which means that this comb cannot maintain the temperature level throughout the styling procedure and needs to be heated often; this would surely take hours to straighten your manes perfectly.
Here's a video for a quick recap:
A Table of Comparison With Proper Justification
| The Must-have Features | Andis High Heat Press Comb | Gold N Hot Professional Styling Comb | Laila Ali Gold Plated Heated Styling Comb | Conair Hype Hair Ultra-Hot Hot Comb | Kentucky Maid SPKM 27 Straightening Comb | Red by Kiss 1/2" Ceramic Tourmaline Root/Edge Straightener |
| --- | --- | --- | --- | --- | --- | --- |
| Construction Material | Gold Ceramic | 24K Gold | Gold | Gold | Brass & Copper | Ceramic Tourmaline |
| Hot Comb Type | Electric | Electric | Electric | Electric | Stove | Electric |
| Heat Settings | 20 Heat Levels (highest heat of 450°F) | Multiple Heat Levels (highest heat of 500°F) | Multiple Heat Levels (highest heat of 450°F) | 30 Heat Levels (highest heat of 345°F) | None | 9 Heat Levels (highest heat of 450°F) |
| Instant Heat Recovery | Yes | Yes | Yes | Yes | No | No |
| Price Range | Less Than $50 Dollars | Less than $50 Dollars | Less Than $50 Dollars | Less Than $50 Dollars | Less Than $50 Dollars | Less Than $50 Dollars |
READ MORE: Does Hot Comb Damage Natural Hair?
Hot Combs Buying Guide For Natural Hair
Types of Hot Comb
The most popular types of hot combs that are available in the market are:
Stove Hot Comb
A hair straightening comb that uses open fire of a gas stove or electric stove to gain heat for the styling session is known as a stove hot comb.
This comb doesn't come with a cord, a plug socket, or any temperature settings like an electric comb, instead, it comes only with a heat-resistant handle to save your hand from burning.
You might still be wondering how to heat up this comb?
Well, as we have said before, you need fire to heat this up; hold the comb on the stove fire (or against the hot burner in case of an electric stove) so that the teeth can gain heat from the fire for the styling and straightening process.
We don't prefer the stove hot comb for styling and straightening hair because:
Heating up the comb with a stove is too dangerous, even for expert users; you might catch fire or burn down your whole kitchen while heating up your comb.
Even when you manage to heat this comb with a stove, you need to test it on a white paper or cloth quite a few times to ensure that the heat level is perfect to apply on your hair; this process is quite time-consuming.
Moreover, after running the comb through your hair a few times, it will begin to lose its heat and therefore, you need to heat it again over the flame. Heating and reheating it periodically will waste a lot of your time and might take hours to straighten your black tresses completely.
Electric Hot Comb
On the other hand, an electric hot comb is a metal hair comb that uses electrical power to gain the required amount of heat to adorn your manes with versatile hairstyles.
Generally, electric combs are made from different types of materials like ceramic, tourmaline, gold (materials that are a good conductor of heat as well as beneficial for hair), and come with various temperature settings.
We always prefer and recommend the electric hot comb for straightening black manes because:
This type of hot comb gain heat very quickly (around 30 seconds after plugging in the tool) and safely, unlike stove hot combs, to straighten natural tresses in the most convenient way possible; you don't have to worry about overheating the tool or burning down your hand while using an electric comb.
Additionally, an electric comb ensures constant power flow to keep the teeth hot as long as you use it; this means that you don't have to reheat it periodically to maintain the temperature for a precise and consistent styling session.
Furthermore, as there is continual heat supply you don't have to worry about the styling duration at all; within a couple of minutes (or several minutes in case you have a head full of gorgeous natural manes), you can remove coils and tame your Afro-American tresses successfully.
READ MORE: Who Invented the Comb?
What to Look for in a Hot Comb for Natural Hair?
Choosing the best electric hot comb for your black tresses is not as difficult and time-consuming as you might think when you know what features and aspects to look for.
To make your selection process easier and also to get a detailed idea of the things to keep your eyes on, remember the following discussion so that you can score the best hot comb for your natural hairs.
The Construction Material
As natural tresses are coarse, thick, and stubborn in nature, it takes quite a lot of effort and dedication to straighten and style them perfectly, and that's why while chose a hot comb for this hair type.
You need to be careful about its construction material as not all the materials are suitable to style black tresses precisely.
I would suggest opting for a comb that is made from titanium, tourmaline, gold or any hybrid of these three components.       
They can absorb the highest amount of heat in the shortest time possible and can also retain the heat in the teeth for a long period.
The Heat Settings
Natural hair can be extremely difficult to style, and therefore, it requires a high amount of heat to be straightened perfectly.
This is why the heat setting of a hot comb is extremely crucial because a relatively lower heat setting won't straighten your tough natural tresses impeccably and a very high setting might burn down your manes completely.
To style your kinky strands quickly yet precisely, I would suggest you select a temperature range between 340° F to 450° F.
These heat levels would straighten your stubborn natural manes easily with a minimum to zero heat damage and burns as well as make the styling session quick and precise.
I would also suggest looking for a tool that comes with a detailed heat control dial because, with a labeled dial, it would be easier for you to set your preferred heat level accurately without being blindsided.
READ MORE: All About Perms and Combs
Is It Important for a Hot Comb to Have the Instant Heat Recovery Technology?
In one word, yes!
Yes, it is important that your hot comb comes with instant heat recovery technology.
But before explaining why this technology is crucial for a hot tool, let's first know what is an instant heat recovery technology?
Instant heat recovery or uniform heat recovery system is a revolutionary technology used in hair styling tools to maintain consistent temperature levels during the styling session.
This system has become a staple and important feature of many hot tools because it helps you to straighten your tresses flawlessly without any damage and also ensures that the styling duration is cut down by several notches for a quick straightening result.
A Quick Overview of the Must-have Features
The Construction Material: Titanium, Tourmaline, Gold or any hybrid of these materials
The Heat Settings: High (340°F to 450°F)
Type of the Hot Comb: Electric
Instant Heat Recovery: Yes
FAQ
Is a hot comb good for natural hair?
Yes, if you have the right hot comb and use it correctly it will have minimal damage to your hair.
Do I need to reheat the electric hot comb when styling?
No. Once the comb is heated, the temperature stays precise.
How is a hot comb different from a flat iron?
The hot comb uses its wide teeth to straighten the hair. A flat iron presses the hair between its clamps to straighten it. A hot comb can easily remove tangles and frizz.
Our Final Verdict
This old-school hairstyling comb has been in and out of the game for a century now, and it seems like it is gaining popularity among users once again.
Therefore, if you have a head full of gorgeous natural manes and you like to flaunt them without kinks and knots; it's high time that you invest in an excellent hot comb.
The electric combs that we have talked about above are the best in the market at the moment and we can assure you that these tools would not only fulfill your styling demands but at the same time would also last for a long time providing you the best value for your money.
Sale
References
1. Hair Breakage: 12 Possible Causes and Treatment [Internet]. Healthline. 2018 [cited 2022 Jan 20]. Available from: https://www.healthline.com/health/hair-breakage
2. Yes, I'm Natural and I Still Straighten My Hair—Here's How I Protect it From Heat Damage [Internet]. Byrdie. Available from: https://www.byrdie.com/how-to-protect-natural-hair-from-heat-damage-5080838
3. Gold Properties | AMNH [Internet]. American Museum of Natural History. 2012. Available from: https://www.amnh.org/exhibitions/gold/incomparable-gold/gold-properties#:~:text=Gold%20conducts%20heat%20and%20electricity
About the Author
Latest Posts
Writer and Content Manager at InStraight.  Lovella's philosophy is that everybody's beauty is merely a reflection of loving yourself . ♀️ She loves to write and discover new cultures. Find her on Facebook
Reviewed By
Last update on 2022-05-22 / Affiliate links / Images from Amazon Product Advertising API