Have you had your hair rebonded lately?
When your hair undergoes this popular treatment, it will require more intensive care and maintenance of your manes. And when it comes to providing your hair with the most efficient and effortless post-medication, nothing beats a good hair mask.
But with zillions of hair masks out there in the market, finding the right one can be such daunting a task. So we came out with this article that showcases the best hair masks for rebonded hair to hopefully assist you in choosing the suitable one for your hair. Read on!
If you see the value in these products and choose to purchase via my referral links, I may earn a small commission at no extra cost to you.
READ MORE: How to Take Care of Rebonded Hair When Sleeping
Quick Overview of Our Top 4 Hair Masks for Rebonded Hair
Before we dive deep into our detailed discussion, let's have a glance at our recommended hair masks for rebonded hair down in the chart below.
Don't have time? Here is a quick comparison of our favorites!
Top Benefit
Nourishing the newly formed bonds for long-lasting smoothness and radiance
Free of sulfates, parabens, phthalates, and other toxins
Boost the levels of essential fatty acids and hydrating properties
Editor's Choice
Top Benefit
Nourishing the newly formed bonds for long-lasting smoothness and radiance
Top Benefit
Free of sulfates, parabens, phthalates, and other toxins
Top Benefit
Boost the levels of essential fatty acids and hydrating properties
Top Hair Masks for Rebonded Hair
Your hair becomes super-sensitized and susceptible to breakage and loads of other disheartening phenomena after the harsh chemical procedures of hair rebonding. So you cannot do without the right hair repair mask for its intensive care.
Until now, we have discussed the key ingredients of an ideal hair mask and how they grace your straightened hair. But still, you may find it hard to pick a suitable product since there are bazillions of them out there in the market.
Garnier, HSI, Coco & Eve, Moroccanoil, Drybar, Amika, Wella SP, Schwarzkopf, Neutrogena, Arvazallia are among the leading brands to have produced several variations of such hair masks. But neither the brand name nor the price range has anything to do with providing the exact service your rebonded hair requires.
This section reviewed six of the best hair masks for rebonded hair after going through all the nitty-gritty.  But before going into their details, let's compare them side by side and their key ingredients.
Ranking Position: 1
Our Opinion: Our Top Pick
This protein-enriched restorative hair mask from Moroccanoil tops our list with all the exotic goodnesses that your rebonded hair is probably craving. Ticking all the boxes of our list of recommendations precisely, this elegant hair mask might be the one to solve all the worries you're having.
When maintaining the newfound straightness is your primary concern, this hair mask will provide the utmost care necessary with the revolutionary pequi fruit oil that it's extremely rich in.
The mask has been deployed with this natural fruit oil extracted from Caryocar Brasiliense, which has higher rates of essential oleic and linoleic fatty acids than any other hair mask in the market. Meaning, it hardly lets your innate curly tresses reform back again while nourishing the newly formed bonds for long-lasting smoothness and radiance.
But what makes this hair mask more special is the 100% original Moroccan argan oil that it's rich in. That being said, it leaves hardly a doubt on how its transformative power can be. Highly enriched with Omega-3 and 6, the oil assures you to heal not just the roughness of your hair strands or the roots but also what's underneath your scalp. The compelling results after a single use should tell you the rest.
The restorative mask also contains Keratin Protein, the essential element to boost your hair strands with adequate elasticity required. Besides, the ancillary Carotenoids strengthen it all the more, so you can remain free of worries with the sudden pulls that would cause breakage.
If your hair has already started falling since the day you had them rebonded, this hair mask can take care of that too. The thick layers contain an enormous percentage of Tocopherols, which cut the hair fall rate almost down to zero.
More so, it'll also soothe your itchy scalp with the outstanding combo of wholesome shea butter and canola oil. The efficient combination will make sure you no longer have to scratch your head every once in a while, neither will you have to withstand the annoying prickly scabies or dandruff.
You might be noticing how the luster of your chemically straightened hair is slowly fading away. If that bothers the perfectionist in you, this hair mask would be there to take care of that effectively. It contains Acetamide MEA, unlike other similar products that have Phenoxyethanol or Ethanolamine instead. It brings back the lost suppleness of your hair and even enhances it with lovely textures.
What's more? The mask doesn't require you to apply heat at all, sparing your sensitive hair from all the hassles with hot tools. And don't worry if you need to flat iron or blow-dry your hair in a few weeks. It contains the essential Dimethicone that will form the defense line required to protect your hair from heat damage.
Lastly, you're bound to love its unique, exotic scent. The iconic signature aroma of Moroccanoil invokes the feeling of relaxation by the sea beach or the spa at the ease of your home. With the harmony of trailblazing medications and the warmth of bewitching fragrance, Moroccanoil restorative hair mask has to be the best hair mask for rebonded hair out there.
Moroccanoil Restorative Hair Mask, 8.5 Fl Oz
A protein-rich, restorative hair treatment that helps reconstruct strands damaged by chemical processing or heat styling. Infused with argan oil and shea butter.
English (Publication Language)
Ranking Position: 2
Our Opinion: Our Runner-Up
Coco & Eve, the social media sensation of a hair mask, sits second on our list. The Moroccanoil restorative mask has merely edged it with canola oil, acetamide MEA, and the original Moroccan argan oil to provide a slightly better overall feel and sheen.
But the hair mask by no means fails to deliver when it comes to taking care of your rebonded hair to the utmost level.  Like the Moroccanoil, it contains the essential Brazilian pequi extract to maintain your hair's straightness right from the deep down of your scalp.
The hair mask also boasts argan oil, but far less in concentration than that of the Moroccanoil. But it has other means to do the job of healing the roughness of your hair. The mask has been implemented with its trademark coconut oil treatment finessed with Fig extract and hydrolyzed linseed extracts. Altogether, they genuinely heal your hair's damaged textures.
It hasn't left any room for worn hair at all, thanks to the keratin protein that it comes with. To make sure the elasticity of your hair is further boosted, selaginella extract has been incorporated with it. So no more split ends or breakage.
Say goodbye to hair falls for good. The higher rates of vitamin E mean the mask also does an excellent job in hair fall defense. The highly hydrating coconut oil squeezes down into your hair's core to expedite the healing process of tocopherols to make sure the strands cease to fall out from the very first use.
The mask comes with castor oil instead of canola, but it does come with the essential shea butter to make your scalp gets the necessary lenitive to ease the scrappy feel and oust dandruff or scabies.
Your hair's suppleness will get a notable boost despite not to the extent with the Moroccanoil as it comes with phenoxyethanol instead of acetamide MEA. But you can assure yourself of a much-improved texture that this hair mask will lock in. And to make sure you can use the hot stylers on your hair in the coming days, the mask also contains dimethicone that encloses your hair with a protective layer.
You'll adore this hair mask for it its mess-free formulas too. The Coco and Eve hair mask is free of sulfates, parabens, phthalates, and other toxins. Simultaneously, the inclusion of a lovely tangle tamer attachment will make the home treating experience of your rebonded hair all the more convenient.
Sale
Coco & Eve Like a Virgin Hair Masque - Coconut & Fig Hair Mask for Dry Damaged hair with Shea Butter & Argan Oil for Hair Repair & Hydration | Deep Conditioning Mask Hair Treatment
BEST SELLING, SOCIAL MEDIA SENSATION. It's the hair mask that everyone is talking about… Winner of 13 beauty awards, Coco & Eve Hair Masque is a 5-in-1 miracle worker…it hydrates, conditions, improves hair texture and shine, treats split ends and tames frizz in just 10 minutes. Transform your tired, dry, damaged hair into shiny, glossy and smooth hair in one wash.
BYE, BYE BAD HAIR. Say hello to sleek and silky hair. We don't just make the hair look, feel and smell better….we dramatically improve the HEALTH of it too, repairing hair damaged from styling, heat, bleached, and too much colouring. See and feel the difference just after ONE wash. Our leave in Coco & Eve hairmask is suitable for ALL HAIR types.
REAL HAIR TRANSFORMATIONS. This is why our customers are obsessing over Coco Eve… "INCREDIBLE" "Simply Amazing Stuff" "Best hair mask ever!" "…works miracles" "Believe the hype" "MAGIC" "Love love!!" "100% worth it" "Hair miracle….seriously!" "BEST EVER" "Holy Grail of Hair Care Masks" "Worth the hype!" "…tub of heaven" "Brilliant product!" "A must have!" "OMGeeeeee" "Repairs hair immediately" "Incredible product!" "Best in the Whole Wide World" "This works. Don't waste money on cheap products…"
IT'S A MANE CHANGER. Unlike other cheap hair care products that use lots of nasties, our Coco & Eve hair masque contains nothing but goodness with ZERO nasties. Made using only the finest ingredients, Coco & Eve is cruelty-free, PETA approved, 100% vegan, and made without sulfates, parabens or phalates.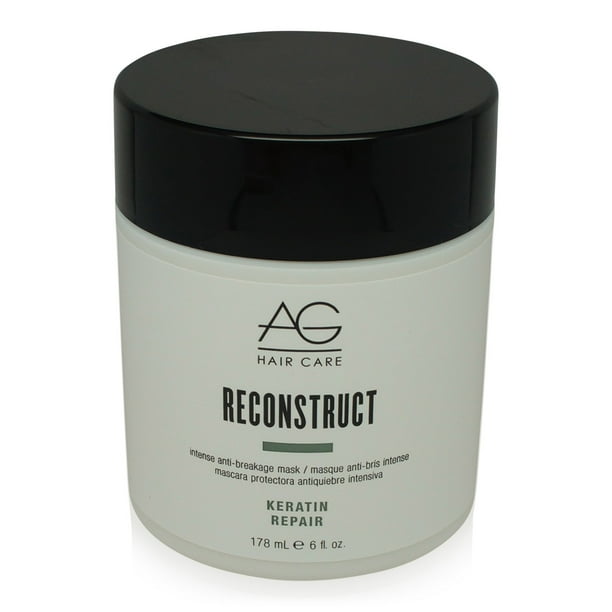 Ranking Position: 3
Our Opinion: Our Second Runner-Up
This intense anti-breakage hair mask from AG is another worthy choice in our list for its excellent repairing and reconstructive properties.
Unlike the two products we've reviewed above, the AG doesn't come with the exotic pequi fruit oil; it's the key reason it came third when we compared them. But don't chuck it off just yet, as the product does come enriched with rosehip oil instead, which has almost the same straightness preserving properties as the Pequi.
But what this hair mask specializes in is its exceptional reconstructive traits. As the name suggests, the product boasts its signature keratin treatment essentials that contain silk amino acids to boost your hair's strength and elasticity from the medullary to the ultimate level.
They've put all their efforts into its making to ensure it thoroughly penetrates the hair shafts and adds strength, shine, and elasticity to your hair. Hardly will it let you feel ever again that your hair was so prone to breakage in the earlier stages after the rebonding process. It's undoubtedly the best keratin hair mask out there.
Incorporating the superfruit complex with the fragments of argan oil adds an exceptional blend within the hair mask. The likes of açaí, pomegranate, and goji berry promote your hair's overall shine and luster with regular use. These fruit extracts are also high in tocopherols to form an efficient defensive unit against hair falls.
Creamy shea butter has been doubled up with meadowfoam in this hair product as a feasible emollient combo to soothe and moisturize your scalp. Meanwhile, a more lightweight Abyssinian oil heals it with the essential nourishment required for dandruff and static-free hair.
Unlike the above two product, which doesn't require any heat, a drying session might be necessary to get the best out of the AG. And to ensure your hair remains protected from the applied heat, dimethicone has been blended within the hair mask, which will form the protective layers necessary.
For a rejuvenated strength, look, and lasting health, the AG is undoubtedly among the most promising products.
Ranking Position: 4
Our Opinion: An Alternate Preference
You may take a look at this Briogeo Repair mask as well, which is extremely rich in Rosehip oil to maintain your hair's artificially straightened structure.
They have comprised the Rosehip oil with natural Almond oil to boost the levels of essential fatty acids and hydrating properties. Together they maintain the balance required to uphold your hair's straightness against the innate curls while also moisturizing to a fair extent.
However, the hair mask lacks several key ingredients in contrast to its competitors, such as Keratin protein, Shea butter, Dimethicone, and sadly a chemical softness intensifier. These are the reasons that kept me from pushing it a level up on the list.
But the product does boast several healthy elements like algae extract, biotins, B-vitamins, and of course, Briogeo's proprietary NOVA complex to replenish your hair's health.
Yet, you cannot expect the same shine and gloss as with the previous products since all these ingredients are not quite up to the mark to aid the lower percentages of argan oil in this hair mask.
If you just want to retain the straightness of your rebonded hair without heeding to the other aftermaths of the chemical treatment you've just taken, you may choose this Briogeo repair mask. And because of it's cruelty-free, over 90 percent of natural descents, the mask is suitable for color-treated hair as well. But it surely doesn't stand up for an ideal mask for rebonded hair.
Sale
Briogeo Don't Despair Repair Hair Mask, Deep Conditioner for Dry Damaged or Color Treated Hair, 8 oz
AWARD-WINNING HAIR MASK —Our 15x award-winning weekly deep conditioning mask balances protein and moisture to strengthen and repair dry, damaged hair.
GET STRONGER HAIR — Scientifically proven to strengthen damaged hair up to 2X after three uses and prevent future breakage after two uses by infusing strands with the perfect protein and moisture balance.
WORKS BEST FOR — Dry, brittle, or damaged hair: all types and textures.
NATURALLY-DERIVED — Formulated with rosehip oil, B-vitamins, and algae extract, this hydrating, antioxidant-rich formula restores essential moisture to dry, brittle, or over-processed hair. 97% naturally-derived, vegan + Leaping Bunny certified cruelty-free.
HOW TO USE — Use weekly in place of conditioner. After shampooing, massage into hair, ensuring even application. Leave on for at least 10 minutes, then rinse thoroughly.
The Reasons Behind Not Recommending the Following Products
Drybar Mudslide Nourishing Hair Mask
The Drybar Mudsile hair mask is known mostly for its amazing frizz reductive properties. It's mainly the lightweight argan oil that heals your hair's kinks and statics without any mess. But I wouldn't recommend the product for you if you've just rebonded your hair. Here's why.
First of all, the hair mask doesn't contain any organic straightness booster that would maintain your newly straightened hair from deep down. It does contain African palm kernel oil, which only conditions your hair follicles but not quite eligible to prevent the innate curls.
It does come with the essential dimethicone, which is somewhat beneficial as it least sustains the rebonded strands weighing them down. But without an organic element, it cannot work beneath the shafts.
And sadly, it doesn't promise you to repair the split ends or breakages, let alone preserving the elasticity as it also lacks Keratin, the building block of your hair. You cannot expect it to soothe your itchy scalp as none of our outlined emollients are present in its creamy concentration.
Price is also a major concern. With all those downsides, it certainly isn't worth the hefty price tag by any means.
Arvazallia Hydrating Argan Oil Hair Mask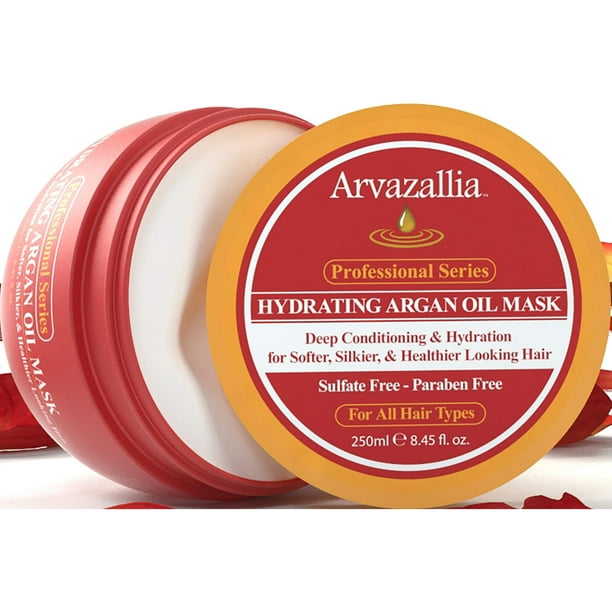 Arvazallia is yet another popular hair product in the market for providing effective argan oil treatment within itself. Despite its popularity among women with rough, unruly hair, I cannot recommend it to you when your purpose is maintaining your chemically straightened hair.
Like the Drybar, neither pequi nor rosehip oil comes within the creamy concentration of Arvazallia. So you shouldn't expect it to boost your hair from the core.
The argan oil does provide a decent service in healing the roughness of natural hair, but it's not good enough to offer the same for your rebonded hair, which requires utmost care deep down the shafts. And without reconstructive Keratin protein, it's very much unlikely to achieve similar results.
The same goes for concerns regarding hair falls. Lack of essential vitamin E means your weakened cuticle won't get the nourishment necessary to gear up the growth rate of your hair, and neither will it get stronger to prevent losses.
The product is also devoid of any suitable emollient that would have eased down the fretful chemically damaged scalp. It's one of the priorities after your head has gone through all the sludgy messes, and you can't really get past it with this cheap hair product.
A Comparative Chart for Clarification
[table id=104 responsive="scroll"/]
Hair Mask Buying Guide for Rebonded Hair
What is Rebonded Hair?
When your curly or wavy hair takes an artificial yet natural-looking straighter effect after going through special chemical treatment, it's called rebonded hair. Hair rebonding is the most common and most ideal technique to achieve sleek and straight manes for the longer term, especially for those with unruly, frizzy curls.
The rebonding process involves chemical relaxation of hair that breaks down the innate structure of the hair strands to build it anew.
The structure of your hair contains bonds of amino acids. Several other protein elements connect those bonds that build the infrastructure of the hair strands to determine whether your hair will be straight, curly, or wavy.
After disbanding this natural structure, the chemical relaxation process then rebuilds it alternately to change the whole texture of your hair. The procedure is done with a relaxant that does the bond-breaking and a neutralizer that completes the rebuilding job. The finish-off is done with a blow dryer and flat iron.
You get shinier, smoother, and of course, super straight hair after the whole procedure. The outcome is pretty much permanent as your hair never reverts to its natural texture.
Besides, you must keep up with the roots to maintain the effects. And you'll also require regular touch-ups once in three or six months, depending on the growth rate of your natural hair.
What is a Hair Mask?
You may want to relate hair masks to a highly upgraded version of a hair conditioner. Their benefits are pretty much akin to each other's, say deep nourishment or hair straightening. But a hair mask is always more powerful and works with more intensity.
Hair masks are rich in specialized formulas that contain natural oils, fruit oils, chemical nutrients, and other nourishing elements. The concentration levels of these ingredients are substantially higher in hair masks than in any other hair care product.
These masks are thoroughly hydrating and take more time to sink into your hair strands and nurture them than an average conditioner or shampoo. You will have to leave a mask on your hair for much longer. It can be just five minutes or overnight, depending on your hair's condition. The results are dramatic after a single use. Also, masks are not to be used as frequently as a conditioner.
Hair masks are excellent in reducing the damages and breakages caused by hot styling tools or changing seasons. They give your hair an extraordinarily healthy look and feel at the comfort of your very own home.
Why Do You Need a Hair Mask After Rebonding Your Hair?
Since the hair rebonding process involves chemicals, heat application, and lots of soaking, it becomes more fragile, frizzy, and devoid of nutrients. Besides, all those hefty procedures cause severe damages to your scalp as the natural proteins are juiced out, and the exposure to the powerful chemicals may even burn it as well.
So you must ensure that your hair gets the utmost care after the treatment. Also, it'll require the proper maintenance to uphold the straight and sleek look in the long run.
There's no better option than a nourishing treatment mask to make a difference in your hair's strength, health, and shine. It's more than essential to refine the dryness and frizzes after you have had your hair rebonded.
A hair mask tends to be an assemblage of ingredients that are restorative and hydrating. More so, they are targeted for specific types and concerns of your hair. A hair mask for rebonded hair generally comes with formulas that contain oils, butter, seed extracts, and so forth. They help replenish the treated tresses for added strength and shine.
The masks are also rich in natural and chemical healing elements specialized for rebonded hair to take care of your sensitive scalp while keeping up the straightness of the strands. Using the right hair mask, you can take the best care and maintenance of your rebonded hair and your scalp.
Check: Rebonding Hair Side Effects
What to Look for When Choosing a Hair Mask for Your Rebonded Hair?
No matter what chemical treatment your hair goes through, if you do it for the perks, there will be a few pitfalls too. And in the case of hair rebonding, the catches seem to be too many in numbers.
With myriads of products in the market that are meant for a variety of different purposes, choosing the right hair mask for your rebonded hair can be a daunting task indeed. So you must focus on the essential ingredients required for proper maintenance.
Here, to add to the convenience of your quest for the best hair mask for rebonded hair, we have compiled this section delineating the various concerns regarding hair rebonding with concurring solutions to each of them, associating the ingredients necessary.
Concern 1: Maintaining the Altered Structure
Achieving super straight, dent-free hair is undoubtedly the sole reason why curly-haired girls rebond their hair. Rebonding hair is the only chemical process out there to straighten the natural curls and waves that suit both teens and adults.
Despite the straightening process rendering permanent results, regular maintenance is a must to keep up the same effects for the longer term.
It's because the strands become more fragile over time because of the lack of essential fatty acids in your hair, denting the straightness as a result. More so, the natural growth of your hair tends to reiterate the curls from the roots. So it's very much possible that your hair won't retain the lustrous straight look in the days coming.
Resolving Ingredients
Did you notice the glandular lobes down the bottom of a plucked hair strand? That comes from the root of the scalp that contains the lipids and essential fatty acids full of necessary oils and nutrients for the stands. Your hair's health, look, and structure depend on these inherent organic elements.
After you've rebonded your hair when these essential organic elements are lost, what you need to do is to replenish them back and regain the lost subsistence.
Pequi fruit oil can be the best restorative solution in this regard. The Brazilian fruit extract oil is one of the latest revolutionary natural ingredients to be complementing modern hair care products with its majestic nourishing properties.
The fruit oil is rich in necessary linoleic and oleic fatty acids along with cell health-boosting palmitic acid and carotenoids. They play a crucial role in retaining your hair's inner strength to eliminate the brittleness caused by the chemical straightening process.
These essential nutrients, bolstered by the necessary pro-vitamins, maintain the straightness of your hair by taking care of the newly formed bonds. Moreover, the Pequi fruit oil contains a handful of other natural nutrients like antioxidants, tocopherol, and potassium to preserve the smooth, sleek, radiant look of your hair, locking in the moisture and relieving the damages.
Rosehip oil is another mention worthy ingredient from South America when it comes to maintaining the preciseness of your rebonded straight hair. The commonly used traditional medicinal oil from Chile provides exceptional antimicrobial benefits.
Like Pequi fruit oil, rosehip oil also contains the same fatty acids and pro-vitamins your hair needs to maintain its straightness. It also includes the essential Lycopene that fights the damaging radicals to boost the collagen levels underneath your scalp to protect the reformed hair cells and maintain hair growth.
However, pequi fruit oil, with higher fatty acid levels, is more effective when it comes to maintaining the straightness of the strands as it holds the maximum capability to stave off the recurring curls for the longer term.
Check: Relaxing Hair Treatment Vs Rebonding
Concern 2: Preserving Elasticity
As we've said earlier, the hair rebonding process changes your hair strands' inherent structure, bond, and texture for a whole new rebuild. And such a process almost totally ruins the natural elasticity of your hair.
As a result, your hair becomes defenseless to breakage and split ends, easily paving the way for the ultimate destruction of your rebonded hair. You may even encounter that your hair is splitting into halves with a mere pull out with your hand.
Resolving Ingredient
As the rebonding process spoils your hair's defense wall both from the inside and the outside, you'll want to reinforce it with the same building blocks that made it up firsthand.
And that is Keratin protein I'm talking about. It's an intrinsic element of your body that also makes up your skin and nails. The protein genetically comes with more elasticity and far less propensity to breakage, scratches, and tears.
These traits might not surprise those familiar with Keratin hair treatment and the excellent strength, manageability, and smoothness it provides. So when your hair mask contains a higher percentage of this strengthening protein, you can expect it to preserve your hair's elasticity in the best way.
Concern 3: Hydrating the Hair and Reducing the Roughness
By now, it's not unknown to you how this chemical straightening process juices out your hair's natural nourishing elements to make it rough and dull. So it's a matter of fact that the appearance of frizzes and kinks becomes more intense, marring the straight look of your hair.
Resolving Ingredient
As for the lack of adequate moisture in your hair after the synthetic hair rebonding process, you need something that moisturizes your hair strands from the core.
Argan oil can be the precise moisturizing solution in this regard. The famous Moroccan oil, referred to as the "Liquid gold" by many, is full of powerful nutritious elements required for rehydrating the cuticles and hair strands.
Among the lubricating substances, there are essential polymers, hydrolyzed amino acids, and catatonic molecules that act as the anti-static agents to fend off the frizzes and roughness for good. And it adds smoothness and luster to your hair to improve the overall health and look.
Also, argan oil can heal the roughness from the core as it contains the necessary conditioners and antioxidants that keep the scalp always hydrated to the required levels. Besides, the Moroccan fruit oil has provided sun protection to native women for centuries with its intrinsic anti-UV characteristics.
Concern 4: Preventing Hair-fall
The harsh chemicals may prove to be severely toxic, be it the chemical relaxant or the neutralizer. Frequent hair loss is a common phenomenon as the aftermath, depending on the toxicity of these chemicals. And your hair also gets weaker with every touch-up.
Resolving Ingredients
To reduce the rate of hair loss, you need a healthy chemical component in contrast to those harsh toxicants.
Tocopherol is a beneficial component to aid your hair strands from the bottom to help prevent hair fall rate. If the name doesn't sound very familiar to you, you can call it Vitamin E as well, which is synonymous with the common fat-soluble nutrient.
The presence of Vitamin E is very high across the variations of tocopherol. You'll find it mainly in various food sources; it's also found in the form of several hair supplements, including hair masks.
Vitamin E does an excellent job of consolidating the cells around your scalp and the cuticle. The contracted roots are far less likely to weaken your hair strands from the core. Besides, tocopherol helps reduce the oxidative stress in your hair scalp, which is one of the critical reasons behind hair fall.
Researchers from the United States National Library of Medicine have also shown in a study that higher vitamin E levels in the cuticles help improve the overall growth of your hair by increasing the blood flow. For your vulnerable chemically straightened hair, it's definitely a plus since the growth rate exponentially drops after the rebonding process.
Concern 5: Eliminating Scalp Inflammation
Since your hair is kept in contact with all those hefty chemicals for an extended period, your scalp will likely suffer severe inflammation in the aftermath. And the heat produced from it can be damaging enough even to burn it to annoy you with a long term itchy, irritating sensation.
More so, this inflammation leads to hair fall, dandruff, acne, blemishes, pustules, and other similar unhealthy scalp conditions.
Resolving Ingredients
You'll need an emollient to soothe your itchy scalp and stave off future inflammation to resolve the issue with your rebonded hair.
Hair masks these days come with several different emollients such as canola oil, castor oil, meadowfoam, etc.
But it would be best in all regards if you choose a hair mask that contains shea butter to give your scalp all the necessary boosts it needs.
Karite trees in Western Africa, known as shea trees, produce shea nuts from where shea butter is extracted and prepared. The nourishing, soothing natural element has been prevalent in skincare, hair care, and traditional medicines for over centuries.
The buoying up of the skin balms, shampoos, soaps, and such by a substantial margin denotes the countless beneficial factors of this natural ingredient. Its anti-inflammatory properties contain a higher level of amyrin, the primary lenitive chemical compound, than any other emollient. This compound defends your scalp from potential dandruff, acne, blemishes, and such.
The likes of canola oil, castor oil, or meadowfoam contain notable percentages of amyrin in them but not as high as that of shea butter.
Moreover, shea butter also works great as a moisture sealant that retains the necessary hydration levels of your hair to increase the softness and glossiness.
Concern 6: Resisting Heat
With the application of highly concentrated chemical solutions and sturdy passage of heat, your hair's fragility substantially increases as the strands lose their natural water barrier. It saps your hair's resistance against heat as a result.
So after you've rebonded your hair, its susceptibility to heat damage becomes likelier even with the passage of mild heat from blow dryers or flat irons.
Resolving Ingredient
Choosing a hair mask that doesn't require heat at all is the best practice. But you will have to restock your hair's natural heat resistance for the potential uses of hot tools at some point ahead, and that's why you will need to reform the barrier with a substance that can surround the walls of your hair strands both from the inside and outside.
So make sure the hair mask you'll purchase contains dimethicone. It's an essential silicone compound that coats your hair cells with sturdy sealant with a water barrier that boosts your hair's overall defense. So when your hair comes in contact with a hot tool, it keeps the heat from entering your hair's core.
Besides, it makes the balance of your hair's moisture by controlling the absorption of water in your hair cells. Dimethicone sounds better for the maintenance of the straightness of your hair as it weighs the hair down and prevents the curls from reforming.
Concern 7: Adding Suppleness to the Newfound Texture
With your hair's natural texture being disbanded and reformed anew, it's pretty apparent that you'll struggle to preserve the suppleness, smoothness, and sheen of the newfound texture without a special maintenance routine. And you may encounter lifeless textures of your manes tresses as early as three months.
Resolving Ingredient
Besides argan oil that we've mentioned earlier, which helps reduce the roughness and eliminates frizz, you'll need a potent humectant that secures the bonds of your hair's new texture for the longer term.
Acetamide MEA can be the ideal choice for a humectant that increases the thickness of your hair's fiber.
Don't get nervous to see it swelling up your hair strands. Since the disbanded hair cells lose the natural thickness by notable margins, it's necessary to swell it up a bit to bring the lost balance back.
Besides, with a more balanced pH, your hair regains the suppleness for a much-prolonged stint. Moreover, Acetamide MEA includes the necessary components to supplement your hair's sheen and glossiness.
Ethanolamine and Phenoxyethanol are the two common elements that also do the swelling job to add to your hair's softness. But when it comes to adding shine and luster, they hardly match the performance of Acetamide MEA.
A Few Additional Ingredients to Look for
Behentrimonium chloride/methosulphate: This waxy anti-static conditioning agent and emulsifier spreads nicely along the strands to prevent tangling while providing added glide.
Kernel Oil: This African palm oil works as a re-moisturizer that soothes your hair follicles for deep conditioning within the hair shafts.
Cetrimonium chloride: It's a standard emulsion for straightened hair that ensures easy rinse-off. Also, it helps prevent the micro-organisms that help re-grow the curly structure.
Cetearyl alcohol/Cetyl alcohol: This is a scalp-soothing emollient, which provides additional slippage throughout the hair strands.
Also Check: How To Undo Rebonded Hair?
The Must-have Ingredients of an Ideal Hair Mask for Rebonded Hair
You now know the key aspects to focus on when choosing the right hair mask for your rebonded hair from the above discussion. Now let's delineate the essential ingredients required for complete maintenance and compare them before making the purchase.
For the ultimate maintenance of your hair's straightness with precise nutrition, the mask must include either pequi fruit oil or rosehip oil. However, in terms of better effectiveness, pequi always has the upper hand.
To provide the required elasticity, your hair mask must have keratin proteins in it.
Make sure it also comes with moroccan argan oil to eliminate the resulting roughness, and statics caused by hair rebonding and to fend off harmful UV rays.
Your hair mask cannot do without vitamin E/ tocopherol regarding the recurring hair falls after the chemical treatment.
For taking the proper care of your inflamed scalp, you'll need shea butter that provides instant soothing. Or make sure the hair mask at least contains any of the following- canola oil, castor oil, and meadowfoam.
To increase the overall feel and suppleness, your hair mask must contain acetamide MEA, ethanolamine, or phenoxyethanol.
Providing heat protection to your rebonded hair is a must, and that's why you'll need dimethicone within your hair musk for best defense.
Final Say
Hair masks come real handy whenever your hair needs a quick boost, or you opt to level up your weekly hair coddling sessions. But once you have rebonded your hair, it becomes an utter necessity rather than your fancy beauty gear. You just can't help adding it to your medicine cabinet.
From the best hair masks for rebonded hair, we have reviewed above, pick the one that suits you the most, and revitalize your straightened hair with graceful traits.
Moroccanoil Restorative Hair Mask, 8.5 Fl Oz
A protein-rich, restorative hair treatment that helps reconstruct strands damaged by chemical processing or heat styling. Infused with argan oil and shea butter.
English (Publication Language)
About the Author
Latest Posts
Writer and Content Manager at InStraight.  Lovella's philosophy is that everybody's beauty is merely a reflection of loving yourself . ♀️ She loves to write and discover new cultures. Find her on Facebook
Reviewed By
Last update on 2022-12-16 / Affiliate links / Images from Amazon Product Advertising API