Volumes, waves, flips, or super straight hair, no matter what style we prefer, we are bound to make relationships with blow-dryers, flat irons, curling wands, and hot tools such alike. While these tools are essential for effortless styling sessions, they can turn that relationship resentful for you if they're not used in the right manner.
And to use them in the right manner, one of the vital ancillaries are heat protectant sprays. You always run the risk of dryness, split-ends, limpness, dullness, and all sorts of dreadful aftermaths if you don't use them before applying a hot tool.
In this article, you'll find our reviews on three of the best heat protectant sprays for hair straightening. We'll focus on how they safeguard your hair and why you particularly need one to favor your hair straightening sessions. Stay along.
If you see the value in these products and choose to purchase via my referral links, I may earn a small commission at no extra cost to you.
Best Heat Protectant Spray at a Glance
Before we jump into our main discussion, let's have a quick glance at the products that we recommend.
Don't have time? Here is a quick comparison of our favorites!
Top Benefit
This oil ensures your hair's roughness is healed from right underneath the hair cells.
Comes with antioxidant-rich highly concentrated argan oil with shine-boosting vitamins
The spray suits both dry and damp hair
Editor's Choice
Top Benefit
This oil ensures your hair's roughness is healed from right underneath the hair cells.
Top Benefit
Comes with antioxidant-rich highly concentrated argan oil with shine-boosting vitamins
Top Benefit
The spray suits both dry and damp hair
Top Heat Protectant Sprays for Straightening Hair
Since thermal hair protector sprays are synonymous with hairstyling, especially when it comes to hair straightening, you'll find bazillions of them in the market nowadays. And despite most of the products claim to be aiding the straightening process, they mostly lack the key ingredients we have discussed above.
HSI, Paul Mitchell, Kenra, CHI, Garnier, L'Oréal are among the leading brands that have produced several variations of heat protectant hair sprays over the years. However, the brand name or the price range hardly matters in terms of providing the exact facilitation necessary for straightening your hair.
Therefore, finding the precise product can be a daunting task indeed. So, in your assistance, we have reviewed five of the best-rated heat protectant hair sprays for hair straightening in the market, having tested all their cores and marrows. But before jumping into the reviews, let's compare them side by side in the chart below.
Also Check Out: Babyliss Steam Straightener
Ranking Position: 1
Our Opinion: Our Top Pick
This Moroccanoil Perfect Defense thermal protection spray sits at the top of our list with all the exotic magnificence that your hair will adore. The elegant hair spray precisely ticks all the boxes of our recommended traits to disperse all the worries you might have while heating up your hair for straightening it.
What makes it our top choice is the 100% original Argan Oil concentration that it's rich in. The spray boasts the best of Moroccan Argan oil that is more significantly enriched with Omega-3 and Omega-6 than any other hair sprays in the market. This oil ensures your hair's roughness is healed from right underneath the hair cells.
The goodness of Argan oil has been doubled up with the vital Keratin protein in this hair spray, which boosts the elasticity of your hair strands by a substantial margin. The spray utilizes the same Keratin protein used in the highly expensive Brazillian blow-out treatments to provide your hair with the best possible inner strength required for a super straight hair.
If you're worried about your hair's moisture being drawn out with the passage of flat iron, the spray has it covered as well. It boasts the most deftly produced hydrolyzed wheat protein out there, which gives no chance to hair straighteners to thermally pull out the moisture. Instead, it helps your flat iron to seal in the cuticles to refine the straightness of the hair fibers for the longest-lasting effect.
The presence of highly positive-charged Quaternary 70 makes sure the sprayed sprinkles attach to your hair firmly, and there's adequate slippage when you pass the flat iron through your hair. It conveys the heat quickly from one section to another, allowing you to flat iron your hair effortlessly.
You'll find your hair strands weighed down a lot for a much straighter effect, thanks to the Dimethicone the spray comes with. It coats the shafts with multiple thick layers that stave off an excessive of 450ºF heat to enter beneath the core. And to make sure the thick layers don't lead to sticky tangles, there is also cetyl alcohol present in the spray.
The inclusion of a significant amount of cetyl alcohol means you can apply the spray on to your scalp as well. Meaning, it'll soothe your scalp to a level so that you can use your blow-dryers efficiently if you happen to prefer straightening your hair with a concentrator attached hairdryer.
This thermal protector spray suits both damp and dry hair. So not to worry if you ever decide to switch your preference. And Moroccanoil assures you with cruelty-free spraying, having no parabens at all and less than 5% concentration of Propylene glycol. No matter if you have fine hair or coarse, it'll suit them all efficiently.
Lastly, the unique, exotic scent of Moroccoanoil will surely take your breath away. Its iconic signature aroma is a harmony of spicy amber and sweet florals that will make your experience all the more relaxing.
Ranking Position: 2
Our Opinion: Our First Runner-up
Despite being edged by the 100% Moroccan Argan oil, this popular HSI Professional heat protector spray is a real contender on our list. It possesses all the bells and whistles necessary for a perfect hair straightening experience.
The premium heat protectant spray comes with antioxidant-rich highly concentrated argan oil with shine-boosting vitamins. It hydrates your hair from beneath your hair cells, nourishing deeply with the assistance of the essential Keratin protein.
A highly concentrated duo of Dimethicone and Cetearyl alcohol not only weighs your hair down for a prolonged straightened effect, but it also lets you use the spray as a leave-in conditioner. That's a massive plus for a heat protectant, which is available at such a low price.
The spray is also infused with top quality hydrolyzed wheat protein extraction that thoroughly conditions your hair cuticles and preserves your hair's innate moisture. And the protective barrier contains an excessive amount of Quaternary 70, specialized for taming coarse hair and providing the necessary slippage to rough, dull hair for effortless passage of flat irons.
The product is entirely free of parabens, sulfates, and phosphates, and contains a moderate amount of essential Propylene glycol to provide you with cruelty-free, mess-free hair straightening experience.
You can expect it to withstand up to 450ºF of heat. The spray suits both dry and damp hair, so no matter what urgency you're in, or what hair type you have, you can always rely on this thermal protector hair spray.
HSI PROFESSIONAL Argan Oil Heat Protector | Protect up to 450º F from Flat Irons
EXTREME HAIR PROTECTANT: Protect hair from heat exposure up to 450º F. HSI's argan oil hair heat protectant is a weightless mist to be used before styling with flat irons, blow dryers & curling wands. Style safely and worry free!
LEAVE-IN CONDITIONER: This light thermal protection spray can be also used as a leave in conditioning serum. Get smooth, hydrated, frizz-free hair that's healthier than ever before.
PROUDLY MADE IN THE USA: Ensuring you get a premium quality high grade hair oil Infused with highly concentrated antioxidant-rich argan oil and shine-boosting vitamins. Not tested on animals.
SUITABLE FOR ALL HAIR TYPES: For Natural hair and Human hair extensions.
MILD FORMULA: Sulfate-free, phosphate-free and paraben-free, Color-safe.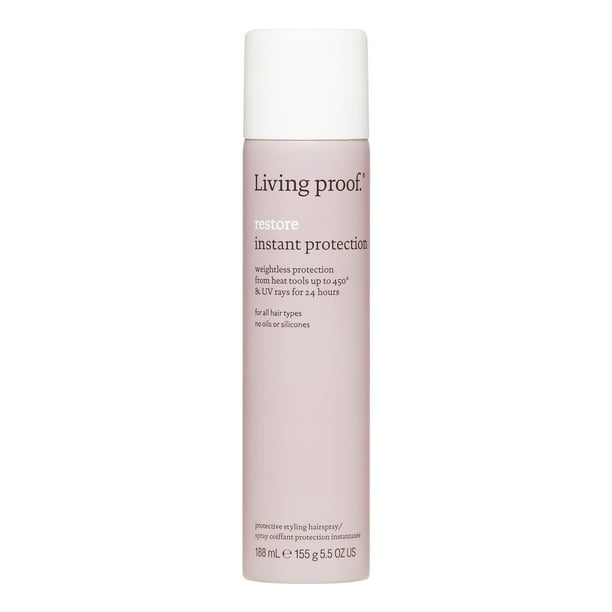 Ranking Position: 3
Our Opinion: Our Second Runner-up
At number three, we have this Instant Protection Hairspray from Living-Proof. It does not boast a 100% concentration of Argan oil like the Moroccanoil or benefit you by standing up as a leave-in conditioner like the HSI professional. Still, it does contain all the essentials you'll need for the hair straightening job.
The aptly concentrated Argan oil it comes with the necessary shine-boosters for your hair to embrace. Despite not being as highly nourishing as in the previous two products, it's able to hydrate your hair from beneath the roots. And since it comprises the essential Keratin protein as well, you can expect the duo to properly work underneath your hair's core for laying out the foundation of straight hair.
The spray comes with adequate proportions of hydrolyzed wheat protein extracts to make sure your hair is well-prepared for the hot tools. It preconditions your hair before you apply your straightener to ensure the retention of your hair's natural moisture.
Besides, the inclusion of Quaternary 70 means you won't have to worry about your rough tresses since it'll provide the adequate slippage you'll need for smooth glides. Neither you'll have to worry about the extended stay of heat flows throughout your shafts.
With the inclusion of Cetearyl alcohol and Dimethicone, the spray eliminates the worries with delicate hair too. Not only will these emulsifiers form a protective barrier around the strands, but they'll also weigh them down to expedite the straightening process. However, their percentage in the concentration doesn't match the grades of the Moroccanoil or the HSI, so you can't use the spray as a conditioner.
While the spray is free of sulfates, parabens, and harmful chemicals such alike, it contains a little bit of Propylene glycol (8%) to seal in the effects of the other essential ingredients for extended periods. And it also efficiently keeps out the mess you'd otherwise encounter while preparing your hair, especially if it's color-treated.
The spray is suitable to use on both dry and damp hair, and it can stave off up to 420ºF of heat. And apart from providing heat protection, it stands up as a superb UV defender even for chemically treated hair, regardless of weather conditions or surroundings.
Check out: Best Flat Iron for Weave
Ranking Position: 4
Our Opinion: An Alternate Preference
You may want to look at this thermal protection hair spray from ArtNaturals, which comes at a much lower price than the three we have discussed above.
We like it particularly for its all-natural aromatherapy integration that is free of any additional chemicals other than the essential health-boosting substances. However, it lacks the Quaternary 70 or any other quats variation and falls short in terms of providing equal slippage like the other two products.
The product comes with ArtNatural's trademark Argan oil infusion that is highly restorative and rejuvenating for your hair and fills it with necessary moisture from the medullary. To add to the elasticity of your hair fibers and uplift the straightness, it's supported by the essential Keratin protein that is present in a pithy amount.
Since the deficiency of Keratin may raise concerns among many, regarding the inner strength of your hair, ArtNatural has it covered with a higher percentage of hydrolyzed wheat protein.
And you won't have to worry a lot about long-term straightness either, as there is enough Dimethicone in every sprinkle of the spray to weigh your hair down efficiently. And the protective layer it forms can fend off up to 450ºF of heat.
The spray suits both dry and damp hair, which is exceptional facilitation to have within a thermal care spray that comes with a much cheaper price tag.
Artnaturals Thermal Hair Protector Spray - (8 Fl Oz / 236ml) - Heat Protectant Spray against Flat Iron Heat - Argan Oil Preventing Damage, Breakage and Split Ends - Sulfate Free (ANHA-0801)
1.Heat Protectant Spray : ArtNaturals thermal hair protector is a weightless mist to use before styling your hair with flat irons, blow dryers and curling wands Our thermal shield provides protection up to 450 degrees Fahrenheit.
2.Leave In Conditioner : This protection spray doubles as a leave in conditioner. Our thermal shield hydrates your hair while protecting it from getting dry and damaged. This professional level item will speed up drying time, and boost shine.
3.For All Hair Types : Our heat protector hair spray can be used for all hair types. It is safe for straightening and curling. Fine or damaged hair, blondes or brunettes. This argan hair spray is the ultimate experience.
4. Argan Oil : Argan oil is known for its ability to help hair restore, enhance and grow. The natural moisturizer will help repair, dry, brittle and damaged hair from blow drying, flat ironing and sun exposure
5.Satisfaction Guranteed: ArtNaturals offers a 100% satisfaction guaranteed or your money back. Try it risk free with no questions asked and top customer service. You have nothing to lose and your health to gain.
The Reason Behind Not Recommending The Following
CHI 44 Iron Guard Thermal Protection Spray
The CHI 44 Heat spray comes cheaper, but it's hardly a bang for the buck as it misses the majority of the traits that we've outlined for an ideal thermal protector spray.
The spray is devoid of the essential Argan oil, which means there's no nourishment for you to get through the strands. It would matter a little had it been infused with Hydrolyzed wheat protein, but sadly it isn't.
Also, the lack of Keratin and Dimethicone means there's no way your hair strands will live up to the elasticity required for a well-preserved straight effect.
The spray has instead replaced all these key ingredients with parabens, which may provide temporary heat protection, but will harm your hair from the inside in the long term. It may also cause loss of your natural hair color with regular use.
Lacking Dimethicone also means it can't form multiple protective layers despite having a bit of Cetearyl alcohol in it. No wonder why it can't hold off a temperature beyond the 350ºF mark.
Sale
CHI 44 Iron Guard Thermal Protection Spray, Clear, 8 Fl Oz
Contains an easy brush glide formula that is an ideal styling tool for all your smooth and sleek styles
It gives you superior heat protection for your hair
Suitable for all hair types
Iron Guard Thermal Protection Spray was launched by the design house of CHI
It is recommended for casual wear.
All these deficiencies pretty much sum up the level of its effectiveness, which forces it out of our recommended list.
John Frieda Frizz Ease Heat Defeat Protecting Spray
The John Freida Heat Defeat Spray can be written off solely for the inclusion of a high rate of parabens, which is violent enough to hurt the interior of your hair strands. But there's more.
No Keratin and no Argan oil means it's nowhere near capable of providing the nourishment your hair requires. More so, the lack of Hydrolyzed wheat protein means your hair will become moistureless when applying a flat iron as there will be no preserving of your hair's natural moisture.
Furthermore, it doesn't include the essential Dimethicone, either. It does hold off an excessive of 400ºF though with the help of parabens, but it's at the cost of your hair's natural moisture and color.
Also, Propylene glycol is highly present within the spray, which may lead to annoying stickiness, although it helps tame the frizzes. And you can't overlook the aftermath as your hair won't get the slippage necessary because there's no Quaternary 70 in it as well.
And it suits only damp hair and not dry, limiting your options and extending your styling sessions.
A Comparative Chart for Clarification
Key Ingredients
Moroccanoil Perfect Defense
Hair Spray
HSI Professional Argan Oil Heat Protector Hair Spray
Living Proof Restore Instant Protection Hairspray
ArtNaturals Thermal Hair Protector Spray
CHI 44 Iron Guard Thermal Protection Spray
John Frieda Frizz Ease Heat Defeat Protecting Spray
Keratin
Yes
Yes
Yes
Yes
No
No
Argan Oil
Yes
Yes
Yes
Yes
No
No
Hydrolyzed Wheat Protein
Yes
Yes
Yes
Yes
No
No
Quaternary 70
Yes
Yes
Yes
No
No
No
Cetyl Alcohol/cetearyl Alcohol
Yes
Yes
Yes
Yes
Yes
Yes
Dimethicone
Yes
Yes
Yes
Yes
Yes
Yes
Propylene Glycol
Yes
Yes
Yes
Yes
Yes
Yes
Heat Protectant Sprays Buying Guide for Straightening Hair
What Is a Heat Protectant Spray?
The name itself is quite self-explanatory. Heat protectant sprays, just like heat-protective creams and serums, are meant to protect your hair from the damages caused by heat.
These hairsprays shield your hair shafts with protective barriers. They also add necessary moisture to the hair strands to reduce the damages and bubbles in hair strand.
Similar to other heat-protective hair products, you are to leave it on your hair (dry or damp) before applying a hot tool. Some heat protectant hair sprays are as good as to stand up as leave-in hair conditioners, while a few others do a decent healing job as well.
How Does It Work?
Once sprinkled on your hair before flat ironing, heat protectant sprays simultaneously start working on multiple aspects to shield your hair from the heat flow. And we can outline those processes with three possible discrete theories.
First off, the protective spray makes sure the applied heat is uniformly distributed throughout your hair. It leaves buffering layers on hair, which can prevent the contact between the hair surface and the hot tool. These layers help minimize overheating effects.
Reducing the rate of heat conduction is another vital way a protectant cuts the damage. It makes the hair slippery enough to allow flat irons or curling irons to slide through the shafts quickly. In effect, the conduction rate gets much slower, making sure no significant amount of heat stays any longer in a single section of hair.
Lastly, heat protectant sprays prevent the potential oxidation reaction in your hair, which is primarily responsible for thermally decomposing the hair protein. Since reduction and oxidation are two chemical reactions opposite to each other, a protectant spray engenders the reduction process through various reducing chemicals to prevent damages.
Related: Does Heat Protectant Expire?
Why Should You Use a Heat Protectant Spray for Hair Straightening?
The answer to this question seems to be pretty straightforward as well. Whenever applying hot tools on your hair, say flat irons, blow dryers or hair curlers, you need a protective shield against the heat generated from them, so your hair remains safe from the burns and a bunch of other unfavorable occurrences.
But this stretches a little further if you focus on the term- "Hair Straightening."
To ensure you get additional support to benefit the straightening process, you'll want something more from the heat protectant spray. For instance, think about if the spray does something out of its ordinary job that expedites the whole procedure.
Say, how favorable it would be if it works from underneath the strands and straighten your hair innately?
Yes, that's precisely the job of several heat protectant sprays that are specialized for hair straightening. They contain certain ingredients, apart from the basic protective elements that nourish your hair to help form the straightened structure implicitly and aide the flat iron thereby.
Besides, you'll want your straight hair to be stunningly glossy and smooth with an added glide. After all, that's how the appeal of straight hair is actually endorsed. And the right heat protectant spray will do that for you efficiently.
What to Look for When Choosing a Heat Protectant Spray for Hair Straightening?
You'll find a few different types of heat protectant sprays in the market, serving a variety of purposes alongside their primary job- Protecting your hair from heat damages. But they are tens of thousands in numbers, which may get you well confused when deciding which one to go for. 
For a heat protectant to aide your hair straightening process with the maximum benefit, you must focus on its key ingredients. They should be full of necessary silicones that are capable of sticking to your hair surface substantively.
Let's put more light on this. Down below, we have explained what elements make the difference and why you need them in your heat protectant for flawless hair straightening sessions.
Keratin
Keratin is an elementary protein element of our body, which we can refer to as the building block making up our hair, skin, and nail. It genetically adds elasticity to your hair to intrinsically safeguard it from breakage, scratches, and tears.
With more elasticity, your hair gets less prone to crinkles, wrinkles, and dents that your flat iron might cause. More so, a strand of hair, with more elasticity, is likelier to retain the straightness for much longer before reverting to its initial state.
Argan Oil
The famous Moroccan oil regarded as the "Liquid gold" by many beauty enthusiasts for its exceptional hydrating abilities.
It contains several vital lubricating elements like essential polymers, catatonic molecules, and hydrolyzed amino acids. These are the primary anti-static agents that nourish and strengthens the hair strands from inside out to fend off roughness and frizzes for good.
When you apply flat iron on your hair, the argan oil smoothens it for added luster. Also, with the essential conditioners and anti-oxidants, it keeps the hair shafts hydrated, so that the applied heat cannot juice out the natural nutrients.
And most significantly, it boasts the essential Oleic fatty acids and pro-vitamins that boost your hair's straightness.
Hydrolyzed Wheat Protein
Wheat proteins are rich in peptides and amino acids. To use them for hair and skin products, wheat proteins are processed and fragmented into protein-rich extracts. The hydrolysis process breaks down the bonds of this protein and creates smaller chains of amino acids. Their lower molecular weight helps them deeply penetrate the innate fibers of your hair shafts.
Hydrolyzed wheat proteins immensely hydrate your hair to make sure the natural moisture of your hair is preserved and not used up during the straightening process.
Besides, they protect the hair cuticles and boost the effectiveness of the cell components that are responsible for maintaining the hair structure. So, if your spray contains hydrolyzed wheat protein, you can expect your hair to retain the straightened effect for an extended period.
Quaternary 70
Quaternary 70 is a conditioning agent with a higher molecular weight that imparts slippage to your hair strands. As we have said before, an added slippage is necessary for flat irons to glide through your hair quickly. It helps your hair shafts avoid an extended stay of the applied heat.
This quat derivative is charged positively and attaches well with your negatively charged hair. It lays the foundation of the protective shields for a firmer hold.
Cetyl/cetearyl Alcohol
These are fatty alcohols with a bit of waxy feel that soothes the outer body of the hair cells and provides necessary slippage while they also work great as detanglers.
They mainly work as a thickening or emulsifying agent that forms a waxy barrier that repels heat while also providing an extra slippage.
Also, if applied on the scalp, these alcohols work as emollients as well. This is particularly necessary for those who prefer straightening their hair with blow-dryers with an attached concentrator.
Dimethicone
Dimethicone is an essential silicone amalgam that specializes in coating your hair cells with a robust sealant. This results in an ultimate water barrier that bolsters the overall defense of your hair. It makes sure the heat doesn't penetrate your hair's core. It creates multiple heat shield layers for maximum protection.
It refuses to allow the flat irons to juice out the inner moisture of your cells and helps keep the moisture levels in the balance to prevent frizzes.
Besides, it's one of those vital elements that make sure all the nutritious ingredients of the heat protectant stick to your hair, so you get the maximum benefit from it. Moreover, it weighs down your hair strands to keep them straight and averts the curls to reform any time soon.
Propylene Glycol
You may call propylene glycol an ingredient supplementary to the natural oils (say Argan oil) in a heat protectant. The combo is particularly beneficial for those who prefer combing while hair straightening as it makes combing through the hair highly convenient.
But more significantly, with the assistance of the applied heat, it seals your hair cuticle with all the other essential nutrients for preserving a long term straight effect. Besides, it efficiently tames your hair's coarseness and soothes the brittleness to uplift your hair prior to heat application.
However, there's a catch. Propylene glycol doesn't evaporate easily, even after heat applications, and tends to stick to your hair beyond necessary. It may result in an annoying sticky feel. So, make sure you go for a heat protectant spray that contains propylene glycol no more than 7-8% in concentration.
A Few Other Factors to Consider
Cyclomethicone stands up as an active silicone compound that evaporates quickly. You'll want your hair spray to have it, for it excellently detangles your hair, without any mess.
Since flat irons and hair corrosions are as synonymous as potential hair burns, you may want to prevent it with Sodium or Benzyl Benzoate.
There are lots of cheap hair sprays that use Parabens instead of the essential silicone compounds to strengthen the outer shell of the strands. But they damage your hair cells, triggering unusual cell developments. So we highly recommend avoiding the products that contain parabens.
Not all hair sprays are equally able to withstand a high amount of heat. Make sure the one you purchase can hold off the temperature you'll be working with.
You'll find a few heat protectants that suit only damp hair, which works better with blow-dryers and not flat irons. A suitor of dry hair does precisely the opposite. And there are also a few that suit both. Be sure of the suitability you prefer before making a purchase.
Let's Outline the Must-have Ingredients
Well, now that you know what to focus on while choosing the right heat protectant hair spray for your hair, let's take a look at the key ingredients we've outlined.
To preserve the elasticity of your hair and strengthen the straightness it from the core, your spray must possess Keratin Protein.
For proper nourishment and hydration from inside-out, and preventing the oxidation reactions, it must contain Argan Oil.
To make sure the natural moisture of your hair is preserved and the vertical structure holds on for a more extended period, it must have Hydrolyzed wheat protein in it.
Quaternary 70 must be present in it for the necessary slippage.
For immediate soothing of the heated hair strands, the heat protectant must have Cetyl or Cetearyl alcohol.
Dimethicone is a must for weighing down your hair for lasting straightness and for efficiently shield your hair strands with multiple layers.
Make sure your protective hair spray also contains moderately concentrated (7-8%) Propylene glycol.
Final Say
Now that you know all about the fantastic thermal protector sprays, you can pick the one that attunes to your preference. So grace your beauty arsenal by getting hold of the best heat protectant hair spray for straightening hair and make your hair flawlessly straight without worries.
About the Author
Latest Posts
Lily is the Editor-in-Chief and one of the writers here on InStraight and ThoseGRACES.com. Growing up with thick hair that has a mind of its own, she's always been passionate about finding the gentlest yet most effective products to help tame her wild mane. You can find more about her HERE. FOLLOW HER on FACEBOOK.
Last update on 2022-12-16 / Affiliate links / Images from Amazon Product Advertising API