Ever thought about switching your hair from curly to silky smooth straight strands?
If so, we introduce you to the best hair dryers for straightening hair.  The blow dryer is a crucial item in the hair straightening process, and without it, you can't straighten your manes perfectly and effectively.
Moreover, you will also need a brush or comb attachment such as this Segbeauty Blow Dryer Comb Attachment to maintain your manes flawlessly if you already have straightened them and wish to them to keep them as good as new for a long time period.
So, without further ado, let's start.
If you see the value in these products and choose to purchase via my referral links, I may earn a small commission at no extra cost to you. 
A Quick Sneak Peek at Our Top Favorite Products
We have talked about all our top favorite hair dryers for straightening hairs in great detail below, but before learning all the nitty-gritty about them, let's take a quick glance at these drying tools:
Don't have time? Here is a quick comparison of our favorites!
Top Benefit
Outstanding quality and safe to use
Lock-in natural nourishment for shiny hair
Top Hair Dryers For Straightening Hair
We were able to find some of the best blow dryers in the market that are best for straightening Type 3 and Type 4 hairs.
But before going into nitty-gritty details about them, let's compare between some of these dryers so that you understand why we preferred some over the others:
Ranking Position: 1
Our Opinion: Professional Quality Blow Dryer for Salon Quality Style
BaByliss Pro has been winning its customers' hearts for the past decades with its outstanding quality hair styling tools, and its Nano Titanium Hair Dryer is no different. 
Because of its stellar combination of power, speed, and heavy-duty design, this blow dryer took no time to prove itself the best blow dryer to straighten even the curliest of hairs.
Let's start the discussion with its coil construction and coating material. 
BaByliss PRO constructed the coil of this professional-grade dryer tool using Nano titanium material [1] that can absorb a high amount of heat in the shortest time possible.
Also, Nano titanium blow dryers maintain a steady heat level throughout the drying session so that you require considerably less time to dry and straighten your "tough to dry and style" hair effectively.
Another great advantage of titanium construction is that this premium quality material is super lightweight, which helps keep the weight of the dryer lighter. 
A lightweight dryer is bliss for users as it ensures that your hand won't hurt even when you hold it for a long time period.
Moreover, the 2000 Watt motor also plays a crucial role in drying your hair quickly and accurately by blowing out more hot air at once all over your manes. 
This way, the drying and styling process is swift, and you can have the hair style you dreamt about in no time.
Now, even though this dryer tool adopts a very high amount of heat and blows super-hot air, your hair is still protected from heat damage because of the ionic technology incorporated by BaByliss Pro. 
The ionic generator releases an abundance of negatively charged ions to your thick hair, that protects them from the applied heat and seals in hair's nourishment to make them silky smooth, and manageable when you are done with drying and straightening them.
Furthermore, the 6 heat/speed settings of this incredible quality hair dryer give you a lot of choices and the freedom to choose the best heat setting for your hair.
A cool shot button blasts cold air to the manes to set the style right in place for a long time.
Additional Features
The ergonomically designed handle ensures a non-slip yet comfortable grip
Incorporates conveniently placed rocker switches for ease of use
Includes concentrator nozzle for styling versatility
Comes with a removable filter for easy cleaning
The tangle-free swivel cord ensures ease of use and freedom of movement
BaByliss offers a Limited 4-year warranty period to ensure outstanding performance
Ranking Position: 2
Our Opinion: Very Lightweight Yet Incredibly Powerful
We have selected this RUSK W8less hairdryer as one of the best for hair straightening purposes because of its amazing hair dryer features and aspects. 
Its ability to dry and assist in the straightening process of "difficult to straighten hair" is unparalleled.
First, this professional caliber blow dryer comes with a ceramic constructed, and tourmaline coated coil that has the best features of both these materials; the tourmaline absorbs a high amount of heat in no time while the ceramic makes sure that your hairs don't burn from all the hot air the dryer blows to your precious manes.
Furthermore, the ionic technology also makes sure that your hair is safe from heat damage by releasing lots of negative ions that lock in the natural nourishment for shiny, frizz-free locks [2] and act as a defender against heat burns and damage.
Another technology incorporated by RUSK in this blow dryer to assure outstanding performance is the far-infrared emission that makes the heat energy penetrate the hair's outer layer and dry them from the inside out.
This mechanism's advantage is that it cuts down drying time by several minutes and ensures that your manes are less exposed to heat and don't suffer from any damages.
READ MORE: Signs of Damaged Hair
Now let's discuss the motor and the exceptional heat setting; keeping in mind the needs of thick hair users, RUSK installed a potent 2000 Watt motor. 
This model can blow extremely hot air at a significantly high speed for a rapid yet precise drying session. This high wattage motor is also very lightweight and helps keep the overall weight of the dryer very less.
Additionally, the incredible 7 heat/speed settings of this drying tool provide a wide range of heat levels to choose from and ensure versatile drying and styling options.
Additional Features
The dual voltage feature makes this dryer suitable for international use
Incorporates a removable rear filter for regular, effortless cleaning
The 8-foot long cord with swivel ends ensures a tangle-free and convenient usage
At less than 1 pound weight, this blow dryer is very lightweight and hence easy to hold for a long time
Comes with a concentrator nozzle to provide styling choices to the users
This drying tool is covered by a 2 Year Limited Warranty period for maximum performance
READ MORE: Can You Use a Hair Dryer After it Gets Wet?
Ranking Position: 3
Our Opinion: Expensive Yet Worth the Money
This BaByliss PRO Portofino is another phenomenal hairdryer tool that straightens your Type 4 hair effectively. 
This blow dryer is the perfect combination of power, quality, and performance, and that's why it took no time to grab a position on our list.
The only reason why this tool is a bit lower on the list is that this hair drying tool is quite expensive.
Aside from the price tag, the Portofino model would provide you with everything you look for.
To start with, BaByliss PRO constructed and coated the coil of this professional grade blow dryer with Nano titanium material to gain the highest amount of heat in the shortest possible time. 
This makes sure that your dryer blows very hot air so that you can dry your hair accordingly.
Moreover, it is common knowledge that the Nano titanium material is super lightweight, sturdy, and extremely durable.   
All these qualities help this dryer provide consistent service, offer supreme longevity, and assure that it is easy to handle for a long time without hurting your hand.
The high performance, 2000 Watt Italian AC motor also plays a crucial part in drying your hair fast by blowing out more hot air at once and evenly throughout your manes so that you don't have to go through the same spot several times.
This outstanding combination of the super powerful motor and titanium coil not only cuts down your drying and styling time but also ensures that your precious manes are less exposed to high heat. 
In turn, your beautiful hair is less likely to suffer from heat burns and damage.
To add more, the ionic technology installed by BaByliss Pro also assists in keeping your hairs healthy and protected from heat damage;
the ionic generator discharge plenty of negatively charged ions that lock in moisture to make your hair silky, smooth, and shiny, and at the same time also forms a defensive layer so that your locks don't get burnt from the high heat you apply to them when they are being dried.
Similar to the BaByliss PRO Nano Titanium Dryer, the Portofino also comes with 6 heat/speed settings to provide its users an opportunity to choose between a wide range of temperature settings that better fits their needs.
Additional Features
This blow dryer comes in two different colors to offer customers a variety of choice
Comes with 2 different concentrator nozzles for various styling purposes
The stainless steel rear removable filter ensures easy and convenient cleaning
Conveniently placed buttons and switches for easy, effortless dryer operation
This hair dryer is backed up by a 4 Year Limited Warranty Period that assures its longevity
BaBylissPRO Hair Dryer, Nano Titanium Portofino 2000-Watt Blow Dryer, Hair Styling & Appliances, Black, BPOR1
This high-performing 2000-watt BaBylissPRO Nano Titanium Portofino hair dryer with Nano titanium technology generates gentle, even heat for exceptionally shiny locks! Comes with a removable filter.
This hair dryer uses Nano titanium ionic technology to fight static electricity & close the cuticle for shiny hair.
Great for all hair types including thick & coarse hair, this blow dryer helps reveal shiny, healthy-looking hair.
Powerful long-life italian ac motor
Nano titanium grill and true ionic generator
You can call this one of the best hair dryers under a budget right now! The Remington Thermacare Pro2400 is a great buy for anyone who doesn't want something on the higher end of the price spectrum.
Remington is a well-known brand but since the price of this hair dryer is particularly low; i.e less than $50, you might get double-minded as to if it really functions as well as the hefty price-tagged blow dryers?
Remington has clearly blown such misconceptions away and it is indeed one of the best blow dryers you can get under a budget.
The sleek body is worth a compliment with its stylish curves and stable handle, blowdrying your hair is much less tiring.
The Thermaluxe advanced technology and the 1875 Watts AC motor promote a powerful airflow with 50% faster drying just like at the salon! It is great if you want to save on styling time!
Another amazing feature is the ceramic technology which delivers even heat so no section of your hair is left out.
The iconic technology provides 90% more ions which reduces hair damage while effortlessly giving you gorgeous blowouts.
This brand is conscious about hair care, we can say that! 
As every hair type is different, so should be the heat settings and this is exactly what the Remington excels at!
Not only does it have 3 heat settings for you to pick from but also the cool shot button to lock in the style.
There are 2-speed settings; High and Low so you are bound to get the most efficient and comfortable performance throughout! No more flat hair when styling is made so easy!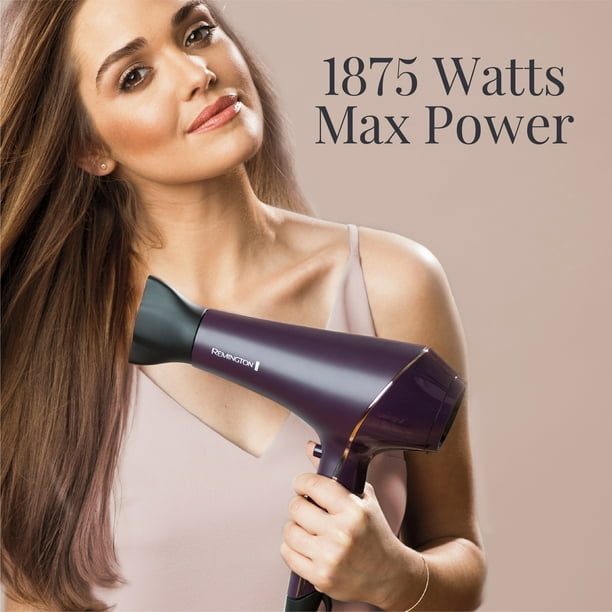 Features
Two concentrators for a narrowed airflow
Diffuser to enhance curls and give your hair some volume
What We Like
Faster hair drying
3 heat settings
What We Don't Like 
Not reliable for commercial use
The design could be improved
The best part about Harry Josh Pro hairdryer is that it proves to be ideal for all hair types! Encased in a sleek mint body with handy features, this one is a favorite among most hairdressers. 
It is a little more advanced than most hair dryers you might have come across especially with its two nozzle concentrators, 12 heat, a sizable cord, and ion settings for salon-like styling.
Its curved handle gives the users a comfortable grip while minimizing muscle strains in the wrist. Its lightning-fast blow-drying speed is ideal for use when you are in the morning rush!
The dual filtration system also greatly reduces energy consumption plus the negative ion technology helps dry your hair faster without damaging them!
One thing is for sure, you will love the compactness and it is the best blow dryer for natural hair.
Features
Strong airflow
Generous cord length
Quick-drying
What We Like
The ergonomically designed handle
Energy saving
What We Don't Like 
We wish it came with the US and European designed plug
The packaging of the product can be improved
It is a blow dryer that straightens hair while styling! The GHD flight travel hairdryer is a travel-friendly appliance with all the high-end features you require for excellent styling results.
Weighing only 422g with an adjustable handle, it is easy to pack in small suitcases. It also features voltage variation between 120 for Canada and US and 240 for European countries.
The controls are also easy to comprehend with a hot and cool setting adjusted on the handle. The hottest temperature it reaches is 149°F, and the cooler temperature is decent enough to de-frazzle when finishing up blow-dry.
It is bound to give you the smooth straight hair you desire!  It is easy to store and quickly dries hair thanks to its speed settings. Sounds like you won't need to wait for shiny hair any longer! 
Features
Powerful for its compact size
Foldable handle
Minimal settings
Concentrator Nozzle to narrow down the airflow
What We Like
Minimal, simple settings
Speed settings is great
What We Don't Like 
We would like to see a better upgrading in the casing
ghd Flight Travel Hair Dryer ― 1200w Professional Portable Hair Volumizer, Suitcase Friendly, Lightweight, Powerful, and Compact Blow Dryer for All Hair Types ― Black
COMPACT, ERGONOMIC DESIGN PERFECT FOR TRAVELING ― The ghd Flight lightweight hair dryer is an ergonomic travel-sized hair dryer with folding handle for easy packing. Lightweight at just less than a pound with cord and nozzle, it includes a travel bag to protect your hair dryer.
POWERFUL AIRFLOW FOR DESIRED RESULTS ON THE GO ― The perfect fusion of premium design, powerful performance, portability, and not to mention 70% of the power and 50% lighter compared to ghd's Air Professional Hair Dryer.
DUAL VOLTAGE TO ACHIEVE A GOOD HAIR DAY ANYWHERE ― Designed with your travel experience in mind, Flight is lighter than a full-sized hair dryer. Its 240V & 120V dual voltage functionality always ensures you get powerful blow-dries wherever you are in the world.
SPEED & TEMPERATURE SETTINGS WITH IONIZER TECHNOLOGY ― Variable speed and temperature controls allows for maximum results as your on-the-go companion hair dry blower.
GHD HAIR SAFEGUARD TECHNOLOGY ― Feel peace of mind as all ghd Flight Travel blow dryers automatically switch off when held too close to hair to prevent overheating and damage to your hair.
Non-dehydrating hair dryers are actually a thing! And this Panasonic Nanoe is proof!
This smoothing hairdryer features accelerated hair drying while retaining the moisture in your hair thanks to the Nanoe technology. This helps combat dryness, scalp itching, and poor hair health gradually.
Furthermore, it has 2 mineral electrodes that release ions which is indeed a unique ionic technology.[3]
You get to pick between classic hot and cold to scalp mode for styling your hair. It also provides the ideal temperature I;e 122°F so there is minimal damage from heating.
The intelligent heat control mode; Nanoe mode is a fascinating option as it self-adjusts to temperatures according to the surroundings.
Very useful for hot summer days when you are in a rush to just get the hair stylizing done without thinking about the damage scorching hair drying temperatures might cause.
The body has an aesthetic touch to it, you are going to love those rose-gold accents and although it looks chunky, it only weighs 1lb!
Features
Anti-tangle cord
Foldaway handle for easy storage
The skin setting option is unique
What We Like
Self-adjusting temperature
Minimal heat damage to hair
What We Don't Like 
Nozzle is flimsy
Expensive
You can call this one a hairdryer and straightener because it is literally made for wispy hair!
Cased in an attractive sleek design with aesthetic grey attachments, the Hersons ionic professional hairdryer is a favorite among high-concept salon spaces.
It comes with a 3m cord, a large hanging hook making it easy to store in cabinets or hang, and a designer travel bag as well!
It also features speed and heat settings with a cool shot button for you to lock in your gorgeous hairstyle at the end of a blow-drying session.
The ergonomically designed handle allows a comfortable grip and promotes easy control while hair drying.
It makes hair look smooth and frizz-free within a jiffy with its efficient ionic technology sending negative ions to smooth out the positive ions in your frizzy hair helping to smooth them out.
You will certainly feel that your hair is less damaged than before, it is great for textured hair types too! 
Features
Professional xl Cord
Quiet, almost noiseless
Comes with two smoothing nozzles
Ergonomic handle for easy gripping
Anti-static ionic hair drying technology helps hair dry faster
What We Like
Great for frizz-prone hair
Dries hair faster
What We Don't Like 
We wish it had more heat settings
The NuMe hairdryer range has some unique features to offer which you might not find in many other pricy hair dryers.
So, starting off with its looks, it is one sturdy hairdryer available in a turquoise casing with a chunky handle with the settings on it.
A unique feature of this hairdryer is the Far Infrared Heat, this moves directly into the hair follicle and comes out from the cuticle hence protecting your strands over time from intense heat damage.
The negative ion conditioning technology eliminates heat while your hair [4] retains moisture thus making it suitable for all types of hair.
his is particularly a very useful feature as it minimizes frizz while giving you a healthy blowout!
The ceramic grill conducts far infrared heat as well as the negative ions more promptly and faster so a gorgeous blowout is just a few minutes away!
Cool Shot Button is excellent if you had been looking for a smoothing hairdryer lately!
Not only does this option let you smooth out your hair but also locks in your styling after the heat drying. It is very easy to use!
Just adjust the setting, part your hair in sections, style, and lock in with the cool shot button! That is all it takes to look lovely with the NuMe Bold hairdryer!
Features
Safe for all hair types
3 temperature settings for you to pick
Power options
Cord length is generous
What We Like
The concentrator is included to narrow the airflow
2-speed settings so you are in full control of the appliance
What We Don't Like 
Takes some time to dry and style hair
I saw it on NuMe

 

Bold Hair Dryer
Sleek, aesthetic, beautiful! We are truly mesmerized by its eye-catching exteriors which are sure to stand out on vanity tables.
Not only do the NuMe stealth hair dryers have a chic look to them but also comprise ultra-mod features!
The most fascinating feature is the brushless motor for over 5000 hours of lightweight and ultra-efficient use.
For people who are extra picky about hair damage, this appliance comes with 3 temperature settings so you get to pick any heat setting, from mild to intense.
It also has 2-speed settings offering you the most versatile blowouts just like you get them professionally done at salons!
Gorgeous hair styling feels so much easier with the speed settings! Curly hair or wavy hair, this hot tool will blow all your styling worries away!
Thie seed setting option also enables you to never over-dry or damage your hair, you are in full control of how much heat your hair is to get!
The cool shot button is yet another feature that helps to lock in your hairstyle after a blowout.
Moreover, the Negative ion conditions discourage dehydration of the hair, promotes shine, and smooth out the hair. Great for frizzy hair! In short, this is a hairstyling accessory you won't regret buying!
Features
Easy to grip handle
Simple yet effective hair styling settings
List Item #1
What We Like
Even heat distribution
Far infrared heat gently heats hair follicles without damaging the hair strands
What We Don't Like 
It is loud making the hair drying sessions noisy
Expensive
NuMe Stealth Hair Dryer
Brushless motor for over 5000 hours of lightweight and ultra-efficient use.
3 temperature and 2 speed settings offers the most versatile blowouts for any hair type without over-drying.
Far infrared heat gently heats follicles from the inside out so the hair's cuticle remains healthy when styling.
Negative ion conditioning improves shine and smooths the hair's cuticle to lock in moisture.
Cool shot button seals hairstyles and locks in moisture for the perfect blowouts all day.
Reason for Not Choosing
6th Sense Styling Technology Professional Ionic Hair Dryer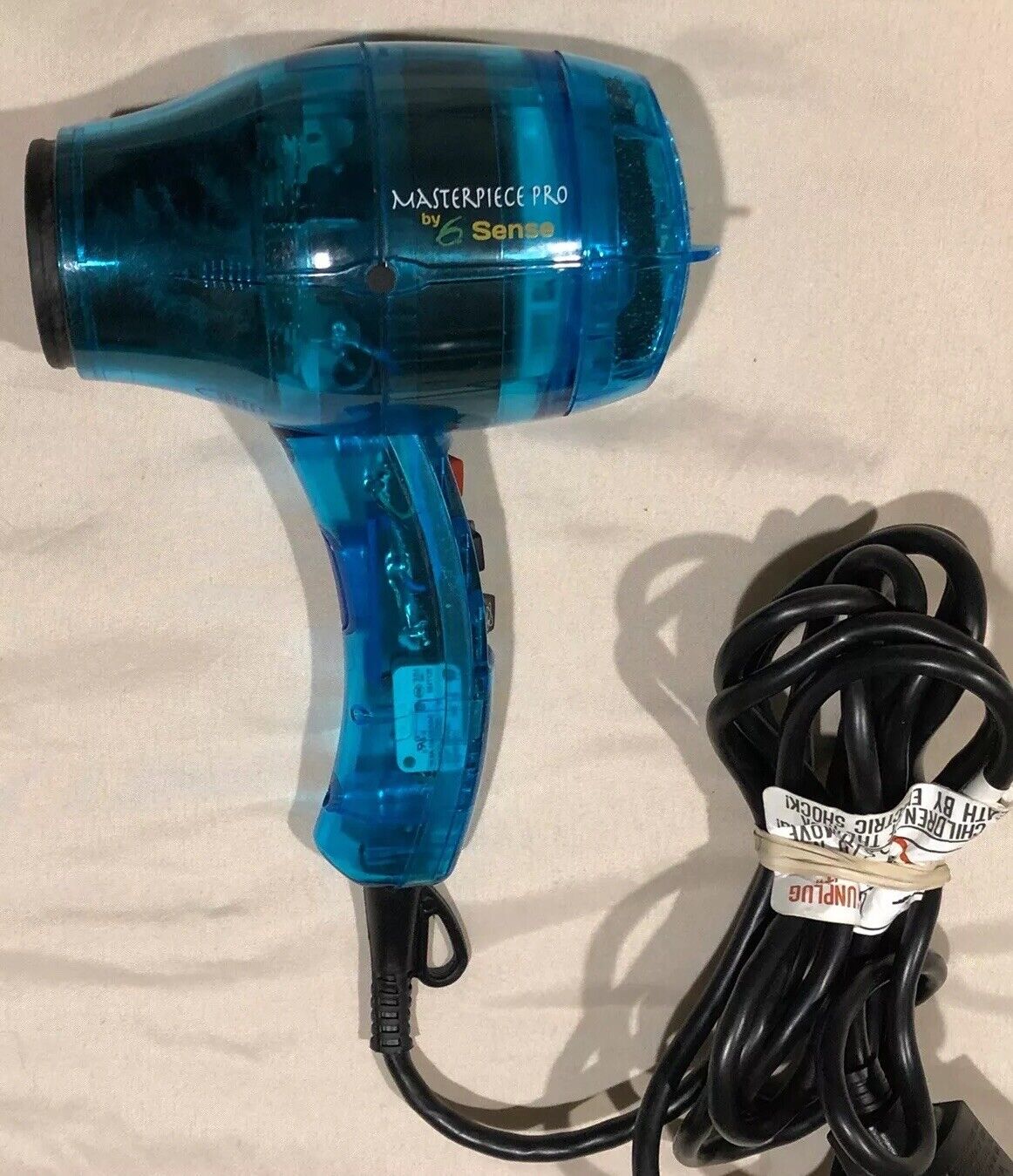 The transparent, futuristic design of this super expensive ionic hair dryer is super appealing, but for the following reason, we didn't recommend this tool for straightening your precious hairs:
This dryer is not constructed with either titanium or tourmaline (or a combination of these materials), which is crucial because other construction materials are not suitable for Type 3, 4 hair and would not produce the results you want.
Also, the 1600 watt motor is not preferable for such hairs as it does not blow out hot air as fast and quick as required to dry them flawlessly.
The 2 heat/speed settings also don't give the users a scope to choose between different temperature settings for versatility.
Amaxy 1st Edition Salon Professional Hair Dryer
Even though this AMAXY hair dryer comes with a 2000 watt motor and has 3 heat settings, we still don't consider it to be just the right one for straightening naturally curly hair because:
First of all, this tool doesn't come with an ionic generator (which is a must-have) to protect your manes from high heat damages and fight against frizz for healthy hair [5].
AMAXY constructed this blow dryer using a ceramic material, which is extremely good for fine/thin hair but is not suitable for curly manes.
At 3.6 Pounds, this hair drying tool is very heavy and has the potential to hurt your hands after just a few minutes of holding it.
A Table of Comparison With Proper Justification
| The Must-have Features | Babyliss Pro Nano Titanium Dryer | Rusk Engineering W8less Professional Dryer | Babyliss Pro Nano Titanium Portofino Full-size Dryer | 6th Sense Styling Technology Professional Ionic Hair Dryer | Amaxy 1st Edition Salon Professional Hair Dryer |
| --- | --- | --- | --- | --- | --- |
| Technology Used | Ionic Technology | Ionic Technology & Far-infrared Emission | Ionic Technology | Ionic Technology | Infrared Emission |
| Construction Material | Nano Titanium | Tourmaline Ceramic | Nano Titanium | Plastic | Ceramic |
| Heat Settings | 6 Heat/speed Settings | 7 Heat/speed Settings | 6 Heat/speed Settings | 2 Heat/speed Settings | 3 Heat/speed Settings |
| Motor Power | 2000 Watts | 2000 Watts | 2000 Watts | 1600 Watts | 2000 Watts |
| Price Range | More Than $50 Dollars | More Than $50 Dollars | More Than $100 Dollars | More Than $150 Dollars | More Than $50 Dollars |
Hair Dryers Buying Guide For Straightening Hair
What is Your Hair Type?
Knowing your hair type is very important because only then you would possibly understand if and how your hair actually needs to go through the straightening process.
The 4 main types of hair are:
Type 1
Type 1 hairs are straight and don't have any curls or waves in them. And as these manes are already straight, you don't need any tools or process to straighten them.
Type 1 tresses are generally classified in 3 different categories. They are:
1A: Very straight and fine; mostly of Asian descent.
2A: Very straight and thicker with medium texture and gorgeous natural volume.
3A: This hair is also super straight and thick but have a coarse texture.
Type 2
Hairs with gorgeous slight waves in them are considered as Type 2.
2A: Fine hair with slight "S" shaped waves; can be styled very easily with messy beach waves.
2B: Medium thick hair with waves; but this hair type is very prone to frizz and static.
2C: Way and super thick manes with coarse texture.
Type 3
Type 3 hairs are curly and have flatter or oval-shaped follicles, and have "S" shaped hair strands. These tresses tend to have more volume and character that give them a fuller look.
Like the other two hair types, Type 3 hair is also categorized into different sub-divisions. And all the 3 kinds of Type 3 hair are:
3A: Has defined curls and with volume and thick texture. This type of hair can be frizzy and needs incredible frizz control.
3B: The curls are tighter and have mixed textures. This type of hair is quite tough to style and is also prone to frizz.
3C: Have curls that are slightly tighter than Type 3B manes and are often referred to as corkscrew curls. The bouncy 3C curls are not as soft as you would want them to be and often have kinks in them.
Type 4
Natural, Black, or Afro-American hair is referred to as Type 4; these tresses have the most flatter follicles and have a zig-zag pattern right from the scalp, making them look super dense, coily, thick, and voluminous.
Like all other hair types, Type 4 also has 3 sub-categories, and they are:
4A: These comparatively soft manes have well-defined, tightly packed curls or kinks. But people with such hair might face dryness very often.
4B: The very tight coils of 4B hairs have more of a Z-shaped pattern (rather than the S-shaped one). Even though these curls are less defined and are really soft to touch, they are fragile and might break extremely easily.
4C: The 4C curls are quite similar to the 4B ones, but these have the tightest z-shaped coils and might not even look curly at all.
Even though both the Type 3 and Type 4 hair locks are incredibly gorgeous, lustrous, and sexy, people with such hairs might want to style them and make them straight every now and then to enjoy versatile hairstyles and new looks.
And to do so, they will need a good quality flat iron and a hairdryer tool (among other products)  to achieve that awesome look.
The issue is that manufacturers don't really produce hair dryers or any other hair tools according to each sub-category of hairs. Hence, we only considered the blow drying tools suitable for Type 3 and Type 4 hair types.
How to Choose the Best Hair Dryer for Straightening Curly Hairs
With several different brands and models of blow dryers available in the market, it's only natural that you might get extremely confused about which one to buy that would suit the need of straightening your naturally curly hair.
Taking into consideration the following pointers can ease the selection process for that blow dryer you've been considering to get:
The Construction Material
Usually, hair dryers are constructed from various materials like pure ceramic (also hybrid of ceramic material), tourmaline, tourmaline ceramic, and titanium. 
Manufacturers might also use a hybrid of tourmaline and titanium material for convenience and better efficiency.
But all these construction and coating materials are not suitable to dry and straighten curly, kinky, and natural hair.
According to several hair experts, you must opt for a blow dryer made from Titanium, Nano Titanium, Titanium Ceramic, Pure Tourmaline, or Tourmaline Ceramic to straighten your curly hair.
Ceramic is the classic and most common construction material.  However, we do not recommend ceramic, Nanoceramic, or porcelain ceramic constructed or coated dryers for straightening curly black hair. 
This is because these components cannot generate very high heat temperatures (because of their high heat resistance), required for Type 3 and Type 4 manes.
On the other hand, we are especially giving importance to titanium and tourmaline and the various hybrid components of these materials, as they can absorb the highest amount of heat in the shortest possible time.
At the same time, these materials can retain the heat level constantly so that you can dry and style your hair uniformly without any disruption.
We all know that black hair is very tough to straighten.
Hence, these construction elements are a must-have feature for blow dryers to enjoy their best benefits when you want to straighten your curly hair locks effortlessly within a short period of time.
The Technology Used
To keep your delicate curly manes protected from heat damage and also to fight frizz, flyaways, and statics actively, you should look for a blow dryer that comes with ionic technology.  
This modern-day technology uses a built-in ionic generator to release plenty of negative ions to your hair that saturates the balance between your hair's ionic condition. 
It also forms a defensive layer to protect your precious manes from any types of heat burns and damage.
The negative ions also seal in the hair's moisture to fight away frizz and also make sure that they are silky and smooth when you style them.
Another technology, which is not a must have but is quite beneficial for your black hair is the far-infrared emission.  
Experts favor this technology because it transfers the heat energy to the core of each hair to dry them from inside out, cuts the drying time by several notches, and ensures that your manes are less exposed to heat and are less likely to suffer from heat damage [6].
What Should Be the Wattage?
Higher motor power means that the dryer will blow more air at a given time.
That would not only cut down drying time considerably, but it would also ensure a precise and perfect drying session, according to many hairstylists.   
For naturally curly or thick hair, you should choose a hairdryer that comes with a 2000 or more wattage motor because these hair types are very densely packed and need more air and power to dry them out accurately for the straightening process.
Anything less than 2000 watt motor won't be suitable for these hair categories.
Let's Review the Must-have Feature of a Hair Dryer for Hair Straightening
Must-have Features
Thick (Natural, Black, Curly) Hair
Technology Used
Ionic Technology (Must)
Far-infrared Emission (Optional)
Construction Material
Titanium, Nano Titanium, Titanium Ceramic, Tourmaline, Tourmaline Ceramic
Heat Settings
Preferable 3 Heat/speed Settings or More
Motor Power
2000 Watt or More
Hair Dryer Straightening Attachment
We often suggest either diffuser attachment or concentrator nozzle for styling purposes, but for the hair straightening purpose, we won't suggest either of these attachments because:
A diffuser is used to enhance your curly manes' curls, but as we are talking about straightening your tresses rather than enhancing the curls, we would not require the attachment with the blow dryer.
On the other hand, a concentrator nozzle is used to focus the dryer's airflow in a specific direction and create volume in your hair. 
We also don't recommend this attachment for the straightening purpose because African American hair is already voluminous. The whole purpose of straightening them is to make your locks sleek and silky.
Then again, there is an extra item that you would need to maintain your already straightened hair, and that is a brush attachment. 
The extra brush/comb head will help you dry your manes properly while keeping the locks straight, tangle-free, soft, smooth, and manageable with its comb-like bristles.
We would recommend the Segbeauty Blow Dryer Comb Attachment (best hair dryer straightening attachment) for your blow dryer because:
This professional quality, fine-toothed brush connector head is considered a universal comb attachment.
It is compatible with most of the dryer brands and models (between 1.57-1.97 inches diameter) in the market. 
The rubber base of this comb stretches and fits the dryer head like a glove so that you don't have to worry that it would fall during your drying session.
This comb comes with a small, extra set of teeth at the base, making sure that your manes are combed twice with each pass.  Therefore, the results are beautiful, silky smooth straight hair locks.
We consider another extra comb head to be one of the best in the market, and hence we recommend it is the Red by Kiss Universal Detangling Blow Dryer Hair Styling Pik.
Below we outline the reason for the selection:
This heavy-duty nylon made comb attachment features a dual grip design that helps it slip into any dryer head and fit the dryer head perfectly so that it doesn't fall off the hair tool and cause inconvenience as accidents.
And because of its extreme flexibility, this brush connector is considered universal in size.
This professional quality dryer brush attachment features a patented double-layer pink design that grabs all of your hair at once so that you don't have to go through each spot for the perfect result. 
The technology also protects your hair from heat.
Additional Advice to Maintain Already Straightened Hair
While talking about the extra brush/comb attachment of a hairdryer for straightened hair maintenance, let's also talk about the hot hairbrush. 
A hot airbrush is a modern day hair tool that combs your hair, removes knots and tangles, and also keeps them straight while drying them perfectly at the same time.
The INFINITI PRO CONAIR BC178 Tourmaline Ceramic 1 1/2" inch Hot Air & Paddle Brush would be the best choice for you to maintain your already straightened locks because it has all the features you need to keep your straightened locks intact while also drying them without exposing them do any damage.
FAQs
Can I straighten my hair with a hairdryer?

Yes, in fact, a hairdryer straightener is easily available in the market. Some blowdryers are designed to smooth out your hair, in turn straightening out your hair. Try a smoothing hair-dryer instead!

Which is better -hair dryer or hair straightener?

While both can dry out your hair, a hair dryer is sometimes considered a safer option as it is not in direct contact with the hair so damages them less. However, if you don't care much about hair damage and love luscious straight locks, a hair straighter is your call!
Final Verdict
There is no denying that every type of hair is gorgeous, but if you want to enjoy sleek straightened hair, the hairdryer tools we have discussed above will help you achieve that.
All the tools and attachments we have recommended and talked about in this article are of supreme quality.
If you are not sure how to use these tools, check "How to Straighten Hair With Blow Dryer".
1. (PDF) (Nano-)Titanium dioxide (Part I): Basics, Production, Applications [Internet]. ResearchGate. [cited 2022 Jan 25]. Available from: https://www.researchgate.net/publication/283574357_Nano-Titanium_dioxide_Part_I_Basics_Production_Applications
2. What Causes Frizzy Hair? We Have the Answers [Internet]. Healthline. 2021. Available from: https://www.healthline.com/health/beauty-skin-care/what-causes-frizzy-hair
3. Skinner WS, Ong KG. Modern Electrode Technologies for Ion and Molecule Sensing. Sensors. 2020;20:4568.
4. Help for Hair Loss [Internet]. WebMD. [cited 2022 Jan 25]. Available from: https://www.webmd.com/skin-problems-and-treatments/hair-loss/science-hair#:~:text=The%20hair%20shaft%20is%20made
5. Sinclair RD. Healthy Hair: What Is it? Journal of Investigative Dermatology Symposium Proceedings [Internet]. 2007;12:2–5. Available from: https://www.sciencedirect.com/science/article/pii/S0022202X15526559
6. Heat-Damaged Hair: How to Repair It Without a Haircut [Internet]. Healthline. 2019. Available from: https://www.healthline.com/health/beauty-skin-care/heat-damaged-hair
About the Author
Latest Posts
Writer and Content Manager at InStraight.  Lovella's philosophy is that everybody's beauty is merely a reflection of loving yourself . ♀️ She loves to write and discover new cultures. Find her on Facebook
Reviewed By
Last update on 2022-12-16 / Affiliate links / Images from Amazon Product Advertising API