Are you looking to buy the Cozzine Wall Mount Makeup Mirror?
Let me say this: I simply LOVED this mirror!
It can be safely mounted on your wall as it has a polished structure as well as a strong base.
It has a magnified mirror on one side that gives a good direction to your hairstyling, facial care, and minutiae makeup application.
You can have an attractive, and ravishing look for your special occasion.
It adds an elegant value to your home décor with its chrome finish.
It is one of the best wall mounted makeup mirrors.
Let's explore some more details about it.
This post contains affiliate links. We earn a commission if you make a purchase.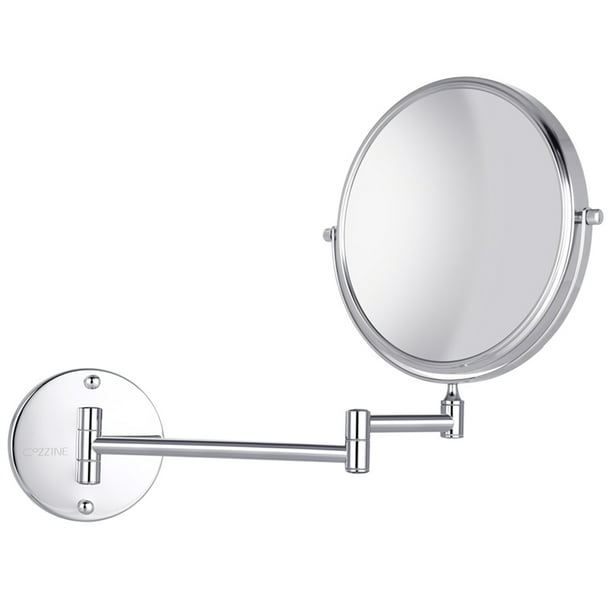 Properties
Value
Product weight
7X model: 0.7300 kg
10X model: 0.6420 kg
Product size (L x W x H)
Is this anti-rust?
Package size (L x W x H)
11.81 x 14.69 x 2.24 inches
Colour
Silver
Is it lighted?
No
Mirror size
8 inches approx.
No of mirrors
2 (Double-sided)
Magnification
1X and 7X
Or 1X and 10X
Rotatable angle
The main arm attached to the wall: 180 degree
swivel arm and mirror: 360 degree
Extended arm length
12.6 inches
Material
Brass and high polished chrome
Are any batteries needed?
No
Installation
With 4 screws
Is this anti-rust?
Yes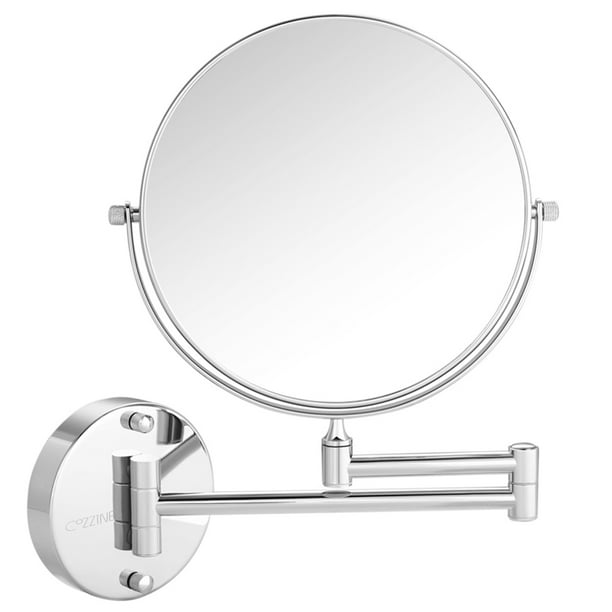 There are some features that make this Cozzine Wall Mount Mirror proper for your makeup and other purposes. Let's go through the discussion to find out the positive sides that encourage you to buy this excellent piece.
1- 7X and 10X Magnification
The most fascinating thing about this mirror is, it has two mirrors on both sides. One side has a plane mirror while the other side is magnified. This mirror has two models with different magnifications. One has 1X and 7X magnification and the other has 1X and 10X magnification.
Either of the sides offers a separate visual image. One side gives you normal 1X reflection and the other side delivers you a powerful 7X or 10X magnification based on the model. The magnified side assists you for a detailed look, also for makeup, beauty treatments, shaving so on. The 10X magnification enacts well also in low light.
2- Ideal Sized Mirror
This mirror has a perfectly round shape. The diameter of the mirror is approximately 8 inches on both sides. This is pretty spacious for covering your whole face and you can do your hairstyle or makeup without stretching your neck.
Gives a Clear Look
Some mirrors give you a slightly biased or retorted view that seems unreal. That means those kinds of mirrors have defects in the optical system resulting in a lack of proportionality in the image which is called distortion. It seems that the Cozzine mirror is distortion-free and so it gives you a crispy clear look.
3- Flexible and Space-saving
If you have to move according to the mirror while applying makeup, that will be an extra hazard. I have faced this situation many times. Thanks to this makeup mirror which can be rotated 360 degrees to adjust your desired position or angle, so you can do your makeup most comfortably.
You can readily alter between two magnifications, also it doesn't wiggle when you set it to the desired position. Its extendable arm can be pulled out smoothly up to 12.6 inches. The arm is swivels and rotates 360 degrees except the arm attached to the wall, which rotates only 180 degrees.
This mirror is space-saving as you can fold the arm of the mirror when you are done to save your space in your bathroom, hall, or bedroom wherever you place it.
4- Anti-rust and Damn Proof
If you are worried about condensation and moisture-related difficulty, then you shouldn't. Because, it has an enchanting chrome finish that protects against condensation, moisture, corrosion, and also rust. That is incredible, right?
This high polished chrome finish gives an attractive look as well as it is durable than any other mirror which is made of stainless steel.
5- Easy to Install
This piece is easy to install on your wall. You have to drill four holes on the wall, set the base panel, and then screw it. You will find 4 screws and 4 screw anchors with the package with a multi-language user manual. Then you have to mount the mirror and finish the installation by setting the screw cups. In some minutes you are ready to take mirror selfies.
Don't forget to check our detailed guide on how to install a wall-mounted lighted mirror.
6- Affordable
In most cases, Cozzine offers you quality accessories within an affordable amount. This mirror is also no exception as you can get it below 50 bucks where many mirrors can be priced more than 250 dollars. So, if you think of a budget-friendly product then you can go for it.
7- Money-back Guarantee
It can be said that the manufacturer of Cozzine mirrors gives priority to their clients because they give you a 100% money-back guarantee with a one-year warranty. This ensures about their quality of products and if you don't like it for any reason you can easily give it back.
What's Not So Great About Cozzine Wall Mount Makeup Mirror?
Apart from the great characteristics, it possesses some features that can make you think twice before buying this mirror. Have a look at these elements.
1- Needs a Proper Distance
One thing I found not so great about this mirror is, you need to be within a particular distance for a clear vision while using the magnified mirror side. Otherwise, you will visualize a bleary image and even can experience dizziness if you remain too close or too far.
For 7X magnification, you have to stay close about 1-3 inch and for 10X magnification you need to keep distance about 3.94 inch or 10 centimeters.
2- Not Lightened
You may notice many wall mount mirrors are lighted nowadays with a light-emitting diode (LED) that emits light. This light imitates natural sunlight which helps you do the makeup even in very low light conditions. It's obviously a plus point that isn't present in this product.
You need a lightened place or place where you can put on the light where you can mount this mirror. Because lacking proper light won't give you a nice finishing touch.
If you are confused by observing these drawbacks, then you can check top-rated wall mount makeup mirrors in this article.
I am sure you will love the: Simplehuman wall mount mirror. Read our detailed guide.
Conclusion
As now you know both the good side and bad side of this model, it would be easy for you to decide whether you should buy it or not. Apparently, it would be a fantastic choice if you want to gift a classy piece to a lady or your mother for their birthday or just to appreciate them. Now if you buy this double-sided magnified makeup mirror, don't forget to share your experience in the comment box below.
Sources
About the Author
Latest Posts
Writer and Content Manager at InStraight.  Lovella's philosophy is that everybody's beauty is merely a reflection of loving yourself . ♀️ She loves to write and discover new cultures. Find her on Facebook